Sandow to 'Merge' Western Interiors and Design with Luxe Magazines

Following acquisition, luxury publisher looking to take network national.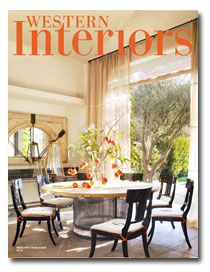 Sandow Media—the Boca Raton, Florida-based publisher that recently acquired Western Interiors and Design—has decided to merge the title with its luxury home magazine network, Luxe. The April/May issue, out now, will be its last.
"We've always built Luxe as a national brand with a regional focus, and we've done a good job owning the 11 local markets we're in," Sandow CEO Adam Sandow told FOLIO:. "The strategy long term is to make it a national shelter brand. The idea with the Western Interiors and Design acquisition was to pick up a fantastic national sales team and a list of paid subscribers with great demographics."
As part of the merger, Sandow intends to convert its controlled circulation model in a number of its markets to a paid model, Sandow said. Western Interiors and Design carried an ABC-audited paid and verified circulation of 275,000.
"This really is a nice way to keep the spirit of Western Interiors and Design alive," Western Interiors and Design publisher Jennifer Matthews said. So far, Matthews and her team have seen nearly 20 advertisers transfer to Luxe, she said.
Following the acquisition, Sandow "absorbed" as many Western Interiors and Design staffers "as was possible given basic job duplications," said Matthews. Sandow is negotiating employment options with a number of other staffers, including editor-in-chief Michael Wollaeger.
Before the acquisition, with the shelter category struggling in the down economy, Western Interiors and Design asked for more funding from its investors, who put "several million dollars" into the magazine earlier this year.
The Luxe network of magazines includes editions in Arizona, Houston, Los Angeles, San Diego, Chicago and Colorado. Over the next three years, Sandow is looking to expand into 14 additional markets, he said.
Meet the Author
---