Sandow Acquires Watch Enthusiast Magazine

Publisher to rebrand title as Watch Journal, refocus for luxury market.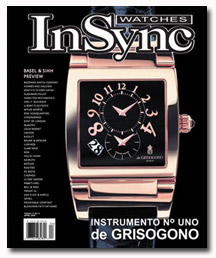 Sandow Media, the publisher that purchased Worth
magazine from CurtCo Media earlier this year, has acquired Texas-based World
Publications' InSync, a magazine for luxury watch enthusiasts and collectors.
Sandow plans to rebrand the magazine as Watch Journal.
According to Sandow CEO Adam I. Sandow, InSync is a "perfect"
fit for the company's portfolio of luxury brands. "The magazine represents a
key component of our strategy as we continue to develop significant brands that
serve the ultra high-net-worth market with exceptional journalism," he said.
Terms of the deal were not disclosed.
No layoffs are associated with the acquisition, Sandow told FOLIO:. InSync staffers in New York,
Florida, Texas and at its European bureau will remain
with the magazine, he said.
In addition to Worth, Sandow Media publishes New Beauty and
the Luxe line of magazines. Sandow recently launched
Luxe Arizona, the 12th in the series.
Meet the Author
---