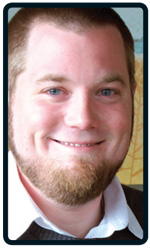 Solomon pulls all the threads for Designs In Machine Embroidery, acting as the entire art department and hitting deadlines for bi-monthly magazine and embroidery design books.
Samuel Solomon began at Designs in Machine Embroidery 11 years ago. Since then, he has been a one-man art department, helping a 32-page quarterly newsletter grow to an 88-page bi-monthly magazine.
"It's not just the publication," Solomon explains. "We have the Web site, and we use the Designs name as a way to push our bi-monthly products. I took over on Volume 6, we're now on Volume 69 and it's just been me, the managing editor and the editor the whole time."
When one issue goes to press, the staff puts the previous issue online, and in between that they launch a product in the off-month. "For example, in the current issue, we have a cover with a pin cushion on it," says Solomon. "The following month, we'll produce and sell a 72-page book of step-by-step pin cushion designs, which comes with a CD that has all the embroidery designs. Our readers can only order those products online."
The company also does roadshows and workshops, where readers actually complete the projects in the books and magazines. Designs also maintains a Facebook page and interacts directly with their audience. "Once you like our page, you can unlock free projects on our Web site," Solomon explains.
Solomon shrugs off the pressure of working alone: "I love what I do. I wake up, I check my e-mail, I make sure everything is okay. Before I go to bed, I check in again. I face the same challenges any team would face—that looming deadline, and the pressure to produce a quality project."
The content affords the opportunity to change the look of the magazine. "It's not editorial-based, where I would be bound by what I could do with typography. It's more of project step-by-step, and a project really comes to life when you see a model wear it," says Solomon. "And because the content and projects are different in every issue, it allows me to try new design ideas.  As nice as having a team would be, sometimes it turns into design by committee; the freedom that I get from not having that committee has been tremendous and keeps it fresh."
VITAL STATS: Designs in Machine Embroidery has a dedicated niche audience of 16,000+ subscribers and a total circulation of 18,000.