Samir Arora

CEO | Glam Media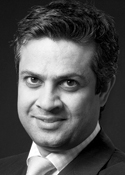 Due to his experience  with two previous Silicon Valley downturns, Glam Media CEO Samir Arora prepared early. Unlike much of the industry, Glam is not reporting the same advertising slowdown, with the company citing more than 200 percent revenue growth.
"My first step when I saw this recession coming was to ask my senior sales staff, 'in a downturn, what ad categories work best?' and 'are there fundamental and systemic problems in specific categories?'"
In response to these questions, his sales staff indicated the areas of auto, finance and technology to be most deeply hit. While this may come as no surprise to most, Arora has found that this is a question many publishers aren't asking of their staff. His theory: "If the penetration of the media mix in online advertising is more than the 8 percent on average, and the digital ad spend is more than this 8 percent, this category is hit very hard. Those that are lower than the average are hit, but not as hard."
Arora also says that, "With digital, we've found that advertisers that you have in Q4 become your core client base to service and secure." The single biggest mistake that some publishers make, he says, is to go after new advertisers in hopes of additional revenue.
To determine their positioning, Glam figured out how many new advertisers signed on in 2008. In 2007, the company had 250 advertisers, and in 2008 they were just shy of 1,000. Glam ended December 2008 at 54 million unique users, up from 20 million in 2007.
"If I were a medium or smaller publisher, I would follow Glam's blueprint from a few years ago, which involves being very focused, even if this means that your footprint is smaller," he says.
Also be realistic about what to expect from ad sales. "I would size my company accordingly in terms of what I think the revenue will really be," he says. "Be aware that maybe your reach and size could be used better as part of a larger company. While I don't think anyone is looking to acquire right now, relatively soon people will be looking to consolidate verticals." 
Where They Will Grow: Expanding verticals to achieve market leader status.
Where They Will Save: By not investing in clients and advertisers unless they had a relationship pre-recession.
 
Quote: "Be aware that maybe your reach and size could be used better as part of a larger company; while I don't think anyone is looking to acquire right now, relatively soon people will be in market looking to consolidate verticals."
MAIN PAGE
Todd Matherne CEO | Renaissance Publishing
Toyin Awesu publisher and editor-in-chief | AvenueReport.com
Cameron Brown president | King Fish Media
Deborah Esayian co-president | Emmis Interactive
Efrem "Skip" Zimbalist CEO | Active Interest Media
Justin Smith president | The Atlantic
Steven Kotok general manager | The Week
Len Burnett co-founder, co-CEO | Uptown
Risa Crandall VP | Scholastic Parents Media
Janet Libert editor and publisher | Executive Travel SkyGuide
Mike Domke founder and president | Milo Media
Jim Prevor CEO | Phoenix Media Network
Kent Brownridge general manager | OK!
John Sateja EVP | Consumer's Union
Jim Vick staff director/publisher | IEEE Spectrum
Pete May president | Greener World Media
Barb Newton president | Sunset Publishing
Paul Mackler | CEO | HMP Communications Holdings
Harry Sachinis | president | McGraw-Hill Business Information
Meet the Author
---