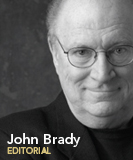 Repetition is part of any magazine's DNA, especially if you are news-driven and have to follow key players who ARE the story. Michael Jordan was on the cover of Sports Illustrated more than 30 times, for instance, and Tiger Woods may break that record before he hangs up his clubs. Many features in b-to-b's are considered "regulars," which return to the magazine lineups year after year because they are on the minds of business managers: the annual CEO Roundtable, Economic Outlook, the Salary Survey.
Likewise, with seasonal or anniversary topics, repetition is unavoidable. If it's November, food books are likely to have a turkey dinner on the cover. As Christmas approaches, and if the bulk of your advertising revenue is linked to the holiday season, look for a shopping guide. The New Yorker reprises its 1925 premier issue cover, by founding art director Rea Irvin, each February to celebrate the magazine's anniversary.
Some topics are repeated because they are linked to special events and bonus distribution strategies. And there are franchise issues, of course—SI's swimsuits, Car and Driver's car of the year, Fortune's 500—that are not considered repetitious at all.  They are awaited.
Indeed, repetition can be a good thing, for a magazine has to be familiar, like an old acquaintance that the reader is comfortable visiting with again: "How are the kids?"  "Remember the time we…" But just as we grow tired of someone who dwells endlessly on old topics, so too with magazines. We need to move on.
When I was overseeing Boston magazine, we did a big special section on tiles in the home—in the bathroom, kitchen, around the pool, all tiles all the time—and it was a spectacular success. Advertisers and readers loved it. The next year, the ad manager wanted to do tiles again. I put the topic off for another year, however, because very little had happened to advance the topic—and you have to be careful about repeating yourself editorially. Readers wonder why you are returning to a topic that they just read about. Remember, that's who advertisers want to reach, too—an interested reader, not someone who is turned off by the same old stuff.
The key for successful repetition, therefore, is to be the same, only different. Here are a few suggestions for avoiding the same-old blahs:
1. Rethink the editorial calendar. A good calendar is carefully constructed around a magazine's reader profile. Instead of reprising last year's topics, look at your reader profile for new ideas. If readers are planning to add on to their home, that means a Home Building Resource Guide. If readers are new to an area, trying to decide where to live, where to enroll their children in schools, that could be an Annual Guide to Neighborhoods or to Day Care or to Schools.
2. Look for different themes. Brainstorm and start thinking outside the thematic box. Some offbeat themes I have observed recently include The Truth Issue (Writer's Digest), the Envy Issue (Boston magazine), and the All-Abs Special (Shape).
3. Give a repeat topic cover billing, but don't make it the cover story. Highlight the old topic in a slash or in the skyline area above the logo, but don't give it cover story status again.  Enough is enough, already.
4. Change its location and its look inside the book. If you have been treating a repeat topic as a feature, move it to the back of the book. Give it a directory look, with a special inside cover.
If the topic means returning to the same old players (as many city magazines have found in their annual "Best of" issues), create a Hall of Fame category and put the oldsters there in a sidebar. Focus on the new players in the main story.
5. Finally, start thinking long-term. You may have to stick with the oldies but goldies for a year or two, but what about after that? Assign a new editor or writer to the beat. When you have the same old people doing the same old things, it's no surprise when you get the same-old same-old. Your goal as editor is to turn the same old into the same new, and to keep the reader coming back for more.
John Brady is visiting professional at the Scripps School of Journalism, Ohio University. He is a partner at Brady & Paul Communications, a publishing consultancy, and conducts editorial workshops for professionals. For information on his Interviewer's Handbook: A Guerrilla Guide for Reporters and Writers, his web site is johnbrady.info, or you may e-mail him at Bradybrady@aol.com.