Saluting Magazine Companies, Suppliers on the Inc. 5000 List

Nice coup for Nxtbook Media.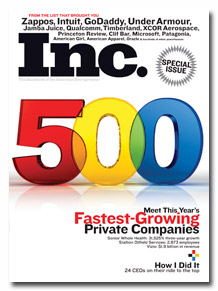 So the Inc. 5000 list of the
country's fastest-growing companies has just been released, and the results
indicate that entrepreneurship is alive and well in the magazine industry,
despite the waves of bad news recently. A slew of magazine companiesNext Step Publishing,
BZ Media, EH
Publishing, Agile Business Media, the Pohley Co., Schofield Media Group, Mental
Floss, and the parent company of this Web site, Red 7 Media, which made the
list for the second year in a row. 
made the list, including
And magazine industry suppliers are
represented too. Nxtbook Media, one of a growing and highly competitive
category of digital magazine providers, was named 303rd fastest growing
privately held company in the United States, and 38th fastest growing company
providing business services in the U.S.
Nxtbook was the only digital magazine
provider on the list, which is a real feather in that company's hat, and also a
bit surprising, because of the rapid growth this sector is experiencing. 
Inc. wrote this about Nxtbook:
"Why it's growing: Creates an innovative digital extension of its clients' print
brand, which gives them worldwide distribution and opportunities to increase
revenue. Also claims to use aggressive marketing tactics at important
tradeshows."
What's noteworthy: "We are a new
company in a renovated 100-year old building. "It's like an old standard
with a new purpose, which is a lot like who we are: a high-tech company giving
the printed medium new life," says CEO Michael Biggerstaff.
Meet the Author
---