Salesforce.com Acquires Radian6

$326 million deal gives Salesforce.com ability to monitor and track social media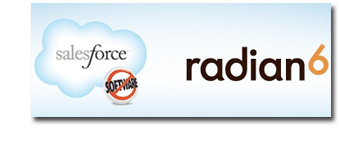 As social media and marketing become more entwined, companies servicing the advertising space are expanding their capabilities. Case in point is Salesforce.com's purchase Wednesday of Radian6, a company that monitors conversations across social networks.
The cash and stock deal is valued at $326 million and is expected to close by the end of July.
"With Radian6, Salesforce.com is gaining the technology and market leader in social media monitoring," said Salesforce.com chairman and CEO Marc Benioff in a prepared statement. "We see this as a huge opportunity. Not only will this acquisition accelerate our growth, it will extend the value of all of our offerings."
Radian6 essentially helps brands monitor and analyze their social marketing campaigns. Salesforce.com plans to integrate the technology into its cloud-based services, including its Sales and Service Cloud platforms, the Chatter network and its Force.com app platform.
Salesforce.com is not expecting the deal to have any impact on its fiscal Q1 2012 results, but projects a $5 million boost to Q2 revenues. For its fiscal year 2012, the company says revenues are expected to increase by $45 to $50 million, bringing full-year revenues to just over $2 billion.
Meet the Author
---