Sales Reps: Beyond Display and Classifieds

As the revenue ratio changes, so is the mission for sales reps.
From 2005 to 2007, advertising expenses were the second largest cost (after editorial) for the average b-to-b publication, averaging about $4.1 million per magazine, according to American Business Media's recently released Financial Trend Report.
But while the report says publishers were able to reduce advertising expenses primarily by dropping their reliance on outside reps (by almost 25 percent), the use of reps seems to be exploding among other publishers, particularly associations, many of whom say they can leverage an entire rep firm for the cost of one in-house sales person.
ABA Journal tapped rep firm James G. Elliott, which specializes in taking over a publisher's sales function completely. "Our expenses are significantly lower than when we had ad sales and marketing staffs," ABA Journal editor and publisher Edward Adams told FOLIO: recently.
Meanwhile, American School Board Journal has tapped rep firm Fox Associates. "We're estimating that outsourcing this function will give us a full, nationwide sales force at about the same cost as salary, overhead and expenses for one high-level, full time staff salesperson," says associate executive director and publisher Marilee C. Rist.
New Realities for Revenue Streams
The mission for sales reps is changing. Many rep firms are now moving beyond display and classifieds to sell digital media and event sponsorships. Some, like The McNeill Group, are even moving into custom publishing and magazine production.  
"The pressure filters down—when they're not doing well, you're not doing well," says president Ed McNeill. "We've been at this for 20 years and today you're working twice as hard to make less. For firms like ours, we're really moving toward niche markets where we can offer custom publishing and fee-based business without relying on advertising commission. Twenty years ago, if you sold $2 million in advertising, you might have made $200,000 from it. Today you might be making $75,000 from the same sale. Whereas with custom publishing, on a million dollar account, you might be making $250,000. Like any business, you have to adjust."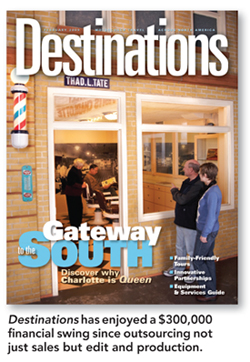 For 20 years, the American Bus Association published Destinations internally. Within the last four years, the magazine has farmed out not just sales but also editorial—including its magazine and directory—to The McNeill Group. "The sales commissions for an in-house staff versus outside sales reps were about the same," says  ABA president and chief executive officer Peter Pantuso. "The major difference was all the rest—by outsourcing it was so much more efficient. In the years we had it, it was a financial loser. In the last two years, we've seen a swing of about $300,000."
When the American Translators Association found it couldn't grow its magazine on its own, they outsourced to  The McNeill Group. "They do all of our sales, both classified and display for the magazine, and also sponsorship sales for our conferences," says executive director Walter Bacak. "With sales, the commission is so important and we didn't have ability to do that in-house. If we did, we would have been concerned about morale with compensation for the other employees."
McNeill handles much of the advertising invoicing for the American Translators Association, including collection of conference sponsorships before the event takes place.  "On exhibit sales, they need to sell up front but we have the reps have to ask our approval for that," says Bacak.  
The 360-Degree Sale
Rep firm R.W. Walker originally focused on selling for b-to-b and association publishers but in recent years has taken on consumer publications such as in-flight magazines and wedding titles (the firm also works with mass titles such as Success and Fortune). "The qualifier for anyone who works here is to understand each of those product lines—print, online or events—and how they fit with the market they represent," says president Michael Walker. "If you can't speak to all those items, if an advertiser has to speak to someone else about online, you lose the connection."
While Walker is prepared to sell online and events, he says the majority of revenue remains print-driven. "A lot of publishers are demanding online but advertisers are not really stepping up to plate," he adds. "On any given day, if I pull a sales report, more than 90 percent of the revenue is coming from print."
Still, Walker says he expects a nice uptick in Webinar revenue in 2009. "For publishers that can provide Webinars properly, there is a lot of potential," he says. "Advertisers are basing results on cost-per-lead generation. Once you have a rolling idea of what your attendee levels will be, you can promise what you'll deliver. We haven't met an advertiser yet who's been disappointed with results of a Webinar."
Credit Union Times has used R.W. Walker for 15 years (and also uses other rep firms today). "What I need is a company that can sell everything for us," says publisher Tom Greve. "Don't break it into different sales channels."
Credit Union Times expects to generate just over $6 million in revenue in 2009. "We're conservative on projections for print but we're a little fortunate because vendors who have been focused on banking are now looking at us because we're in better financial position that many of the banks," says Greve. "We have given our reps a much higher bogey on digital than print. If I would had thrown them a 10 percent or 20 percent increase on print, they would have looked at me like I was a nut."
The Armed Forces Communications and Electronics Association, which publishes Signal, has used outside reps, including R.W. Walker, since 1987. In the U.S., the association works with three different rep companies. "They handle our print, our Web site and our e-newsletter," says director of advertising Marsha Carpenter.
Reps also handle collections. "With collections, we only ask them to make an attempt for late payment at 90 days," says Carpenter. "After that, the magazine takes over that responsibility."
 
Managing Rep Contracts
According to the National Association of Publishers Representatives, total compensation for an advertising sales team usually amounts to about 25 percent of advertising sales revenues, including their base salaries and expenses. Commissions vary depending on the base salary. Some plans pay a big base while the commission is in the 3 percent to 6 percent range. The alternative is a smaller base and commissions of 10 percent or more. Outside sales rep firms generally charge 20 percent commissions plus expenses.
The time a sales rep devotes to the publishing client can be a major bone of contention. Signal is looking to grow internationally (currently about 6 percent of its total revenue comes from international advertisers) and also uses some foreign rep firms, with mixed results. "With some of our foreign reps, we've now gone to a zero-day cancellation policy—I can fire them that day, no questions asked," says Carpenter. "We went to that because having a sales rep who's not fully representing you is worse than no sales rep at all."
Still, McNeill advises publishers to have realistic expectations, particularly when it comes to balancing the selling and administrative parts of the job. "A lot of times publishers are not used to working with an outside agency," he says. "And sometimes that means the reporting is over the top. To produce those sales reports means less selling time. You've taken that sales person and made them an administrative junkie. It's a control thing. You want to use an outside rep but you still want the benefits of inside control."
Prospecting new territories may be another sore spot. "We have a lot of publishers who come to us and say, 'We have all these other markets we want to develop, would you like to come in and develop on a commission basis?'" says McNeill. "The answer is no because there was no revenue to begin with and nothing to sustain it. We're only getting paid on business you wouldn't have had."
Meet the Author
---