While experience and size stand out as the largest determinants of pay for those in sales departments, one category that traditionally has had a big role in compensation isn't so prominent anymore.
Females out-earn males at every level of Folio:'s 2015 Advertising Sales Salary Survey. The gaps ranged from as little at $300 at the director level to $8,600 for account executives.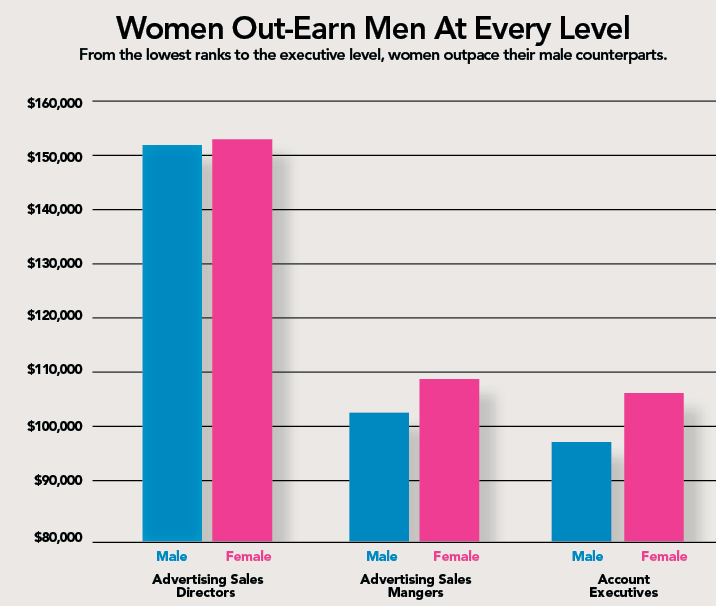 Whether the results are indicative of a larger trend in magazine media or one unique to sales—with incentive packages largely dependent on performance rather than perception, and a workforce used to negotiating—they're notable in an era where the U.S. Census Bureau says women earn just 77 percent of male incomes in comparable roles.
Independent of gender, experience in the publishing industry matters far more than how long someone has been at a company or in a specific role. While pay only exhibits a loose correlation to the latter two factors (and even, in some cases, shows the opposite of what's expected), more overall time in publishing means more money at every level.
Respondents with more than 20 years in the business make an average of 60-percent more than those with fewer than 10 years of experience, and 10-percent more than those with 10 to 19 years of service.
Revenue also stands out as one of the most important factors when it comes to determining pay. As one would expect, the bigger the company or the title(s) worked on, the more money an employee makes—the size of those gaps is surprising though.
Salespeople at larger companies earn roughly 34-percent more than colleagues at smaller outfits. And those selling for a title (or titles) with more than $3 million in annual revenue stand to make about 54-percent more than respondents working for magazines with thinner top lines.
Advertising Sales Director

How you're paid might matter more than where you work or what your job entails if you're an advertising sales director.
Commission and bonus structures (and, ultimately, total compensation) vary widely, and those with smaller base salaries often out-earn colleagues getting more up front—sometimes by tens of thousands of dollars.
Respondents report the biggest differences in source mix and industry sector.
Those working on controlled circulation titles make $70,000 more than those at paid-only magazines, and almost $50,000 more than colleagues with mixed readerships, despite a base wage of almost $15,000 less. Similarly, even though salaries for respondents at B2B companies are about $10,000 less than their consumer and association counterparts, overall compensation is almost $30,000 more.
The disparities are due to incentive pay. Bonuses make up around half of total compensation for ad sales directors at controlled-circulation titles or B2B publishers—it's closer to a quarter of total pay for those elsewhere.
Not surprisingly, revenue also stands out as a major determinant of compensation. Respondents at larger companies—those with at least $10 million in revenue—or working with larger magazines—titles generating $3 million or more—make up to $70,000 more than colleagues at smaller operations.
Demographic differences are almost nonexistent, including almost complete equality in pay between men and women.
Meanwhile, experience tends to pay off, though there's some evidence that job hopping really does work. Income follows an expected curve when looking at years in the publishing business, but the results are less predictable when examining time at a given company or in a specific role—the least experienced respondents often make the most money in those breakdowns.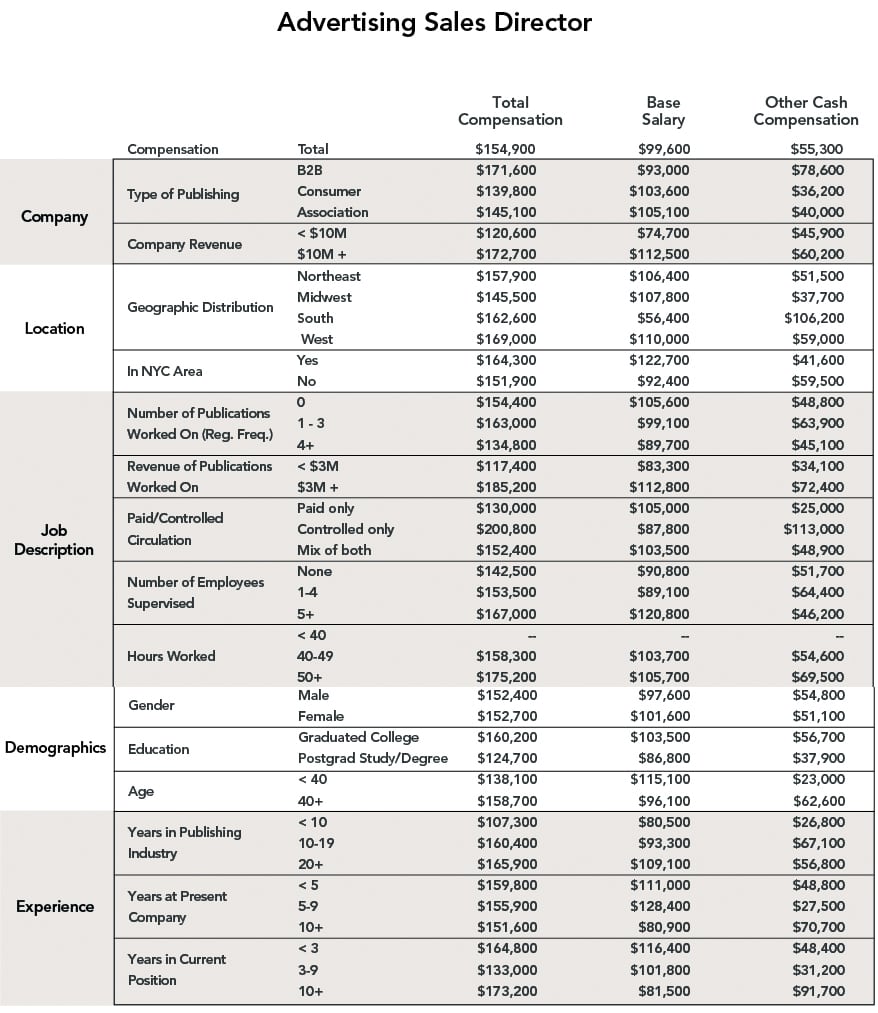 Advertising Sales Manager

Like their bosses, advertising sales managers see compensation structures vary widely—bonuses make up more than half of total pay for some, while they're less than a quarter of income for others.
But unlike those at the director level, the difference in sources isn't impacting overall pay for advertising sales managers.
Take industry sector as an example. Respondents working for B2B and consumer publishers each make about $108,000 per year, but incentive pay is 48 percent of that total number in B2B and just 26 percent for those at consumer outfits.
Instead, revenue and experience are tied much closer to compensation.
Those working for companies that generate more than $10 million in annual revenue can expect to make almost $40,000 more than ad sales managers at smaller publishers. The same goes for the earnings of the specific titles worked on—respondents selling for magazines with more than $3 million in revenue will net about $46,000 more.
Amounts shift, but salary disparities based on experience stayed close to common sense on all fronts—more time equals more money. Years in the publishing industry makes the most difference. Ad sales mangers with more than 20 years in the business earn $50,000 more than newbies, and $15,000 more than who've been publishing sales for 10 to 19 years.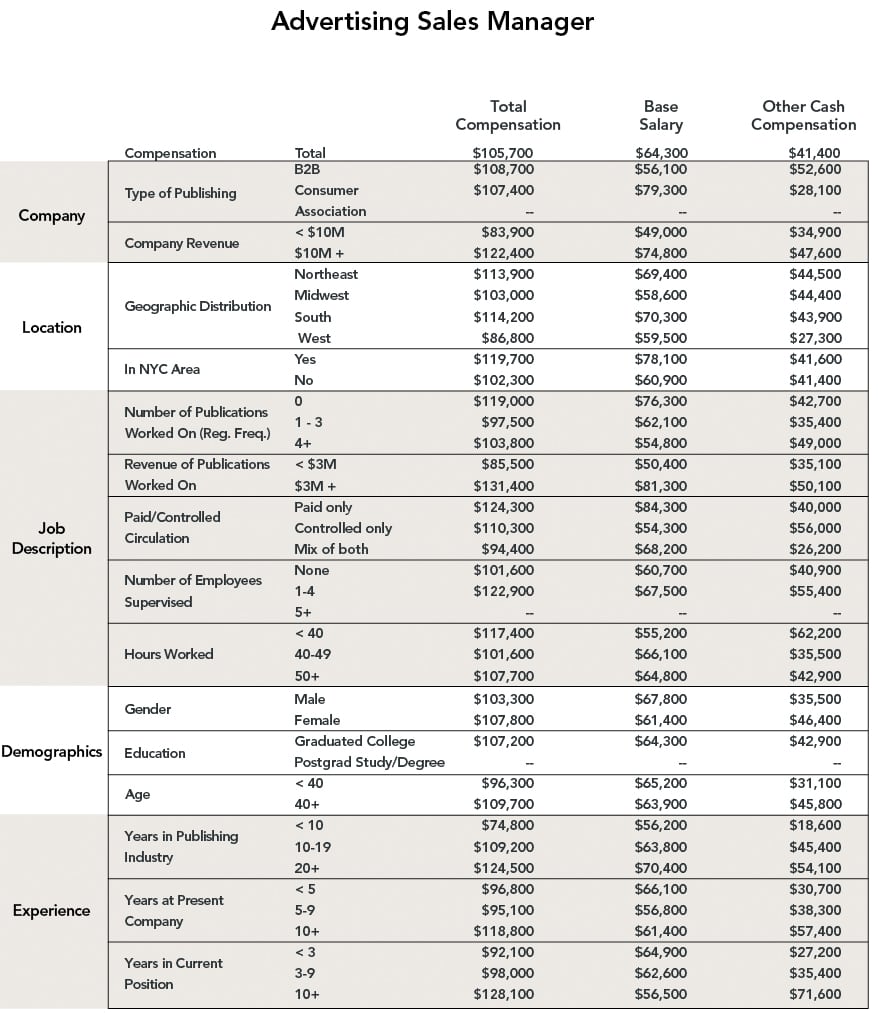 Account Executive

Account executives make almost the same amount as advertising sales managers, though the sources of that income are much different.
Incentive pay adds up to nearly half the mean total compensation package for account executives at $48,600. Conversely, managers get just 39 percent of their pay from bonuses.
Geography also plays a larger role for account executives than it does at other levels of sales departments. Respondents working in the Northeast make almost $50,000 more than their counterparts in the West, and out-earn colleagues in the South and Midwest by $16,700 and $10,600, respectively. And those working in New York City take home about $20,000 more than those based elsewhere.
Age, too, plays a bigger role for account executives than it does for others in sales. In all cases, the higher a respondent's age, the higher their salary is likely to be, but the size of the disparity changes. While account executives over age 40 stand to make 25-percent more than younger colleagues, that gap is just 14 percent for directors and managers.
But despite the role of age, industry experience actually has less of an impact on pay for account executives than it does for the rest of those in sales. Differences in compensation between the most- and least-experienced account execs are about 30 percent, with gaps twice that wide for managers and directors.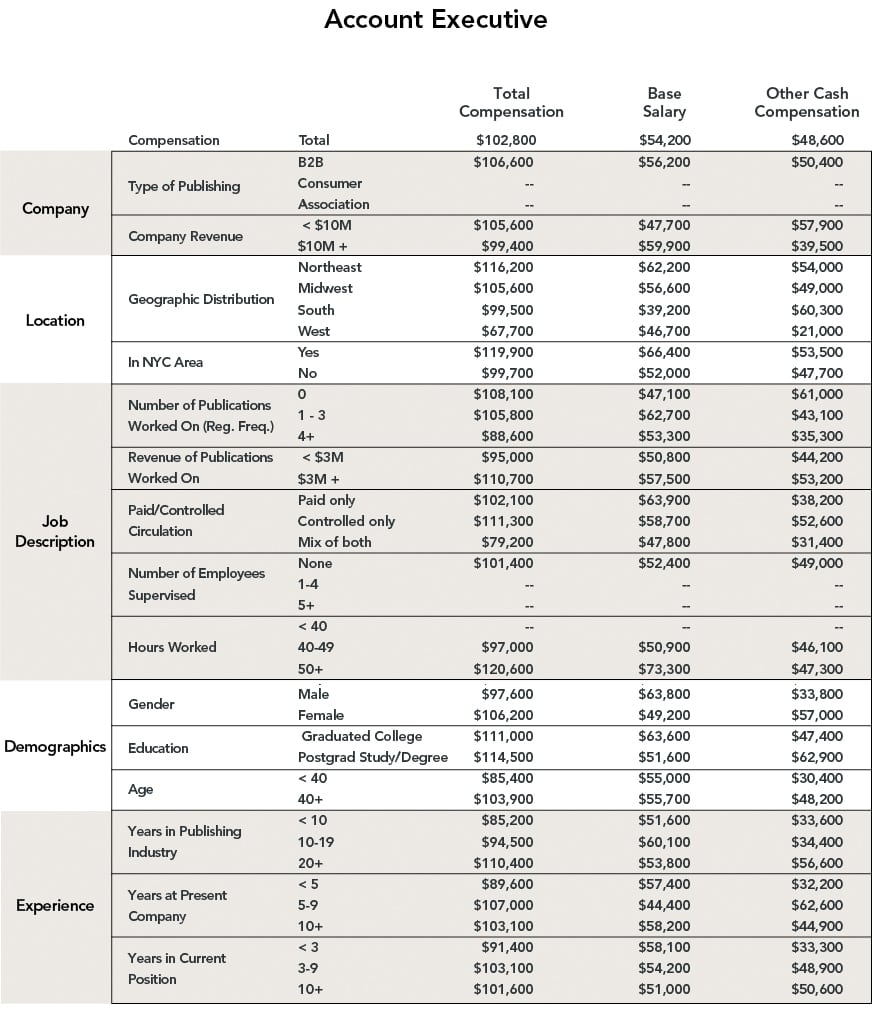 Methodology: Data was collected via online survey from April 22 to May 22, 2015. The survey was closed for tabulation with 1,254 total responses—a 2 percent response rate. The margin of error for percentages based on 1,195 tabulated responses is ±2.8 percentage points at the 95 percent confidence level. The margin of error for percentages based on smaller sample sizes will be larger.