ADVERTISING SALES DIRECTOR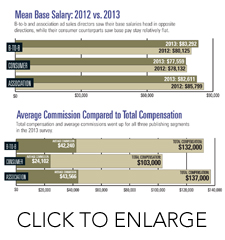 Salary trends switched and the gap between b-to-b, consumer and association advertising sales directors shrunk in this year's survey.
Running counter to 2012, b-to-b ad sales directors got a 4-percent bump in base salary up to $83,292, while their association counterparts dropped 4 percent to $82,611. Salaries for consumer ad sales directors fell less than 1 percent to $77,559. The gap between the highest and lowest average base salary—now at a little more than $5,700—has been significantly reduced in each of the last two years.
But while one gap got smaller, others widened.
Average commission increases varied, exacerbating the difference between b-to-b, consumer and association ad sales directors' incentive-based compensation.
Meanwhile, gender differences in pay ballooned back out to $26,000 after shrinking to $12,000 last year.
Geography also became a more noticeable point of distinction. Those in the Northeast make the most at $155,000, and those in the South make the least at $115,000—a $40,000 difference that was at $32,000 last year. The same goes for working inside or outside of the New York City area. City-goers earned $65,000 more than the rest of ad sales directors, up from $48,000 in 2012.
Meet the Author
---