SEE ALSO: Main Page
Editor/Executive Editor
Managing Editor/Senior Editor
EDITORIAL DIRECTOR
Eight percent of editorial directors surveyed expect a decrease in total compensation, more than any other category, while 76 percent—also more than any other category—say they've taken on more work.
Seventy-six percent of editorial directors say they have taken on more work beyond their job descriptions. As one respondent wrote, editorial directors are now asked to be "online strategist, brand manager, event producer, researcher, fixer" and deal with "employee absorption." In the midst of all this, these editors are fighting to maintain high standards. "No one cares about quality anymore, just the bottom line—discouraging," wrote one. Frustrations range from "meddling by publisher/executive management" to "a mandate to place advertising first."
E-media is affecting these feelings as well. "I'm evaluated as much on clicks as on editorial quality and maybe even more so!" wrote one respondent. "The Internet (blogs, MySpace, etc.) has a lot of the younger generation believing they're writers, but they lack real world newsroom experience," wrote another, while one cited "educating old schoolers about the importance of digital media" as a most rewarding aspect of the job.
Fifty-six percent of editorial directors expect an increase in salary this year, and for many this is due to online. "I'm doing more and busting out of my traditional comfort zone. I expect to get more for that and won't rest until I do," wrote one. Others are less optimistic: "Move to online, less ad budgets for print, more work and same or less pay!"
The gap in mean salaries among female and male editorial directors narrowed from $20,000 to $12,200 this year, as the gap between those outside the New York City closed from $32,000 to $18,800. Overall, though, 8 percent of editorial directors expect a decrease in salary this year—more than any other category of editors surveyed and up from 3 percent last year. Fifty-six percent expect an increase, as opposed to 74 percent last year.
Compensation aside, 66 percent say they are highly satisfied with their jobs, while only 2 percent say they are not satisfied at all. Freedom, creative environment, intellectual stimulation and interaction with interesting people were some of the most cited rewarding aspects. One wrote, "My magazine has been enthusiastically embraced by the industry and I'm treated like a rock star!"
AVERAGE SALARY BY:
Gender
Male: $89,800
Female: $77,600
Age
Under 40: $67,200
40 or older: $91,900
Education
Graduated college: $83,700
Postgrad degree: $85,800
In New York City Area
Yes: $100,300
No: $81,500
Geographic Distribution
Northeast: $91,600
Midwest: $81,600
South: $81,100
West: $82,500
Years in Publishing Industry
10 years or fewer: $61,600
10-19 years: $77,700
20 years or more: $98,000
Years in Editorial-Related Function
5 years or fewer: $61,800
5-9 years: $61,400
10 years or more: $89,800
Years at Present Company
5 years or fewer: $74,200
5-9 years: $77,600
10 years or more: $96,000
Years in Current Position
2 years or fewer: $77,400
3-9 years: $84,300
10 years or more: $99,800
Number of Publications Worked On
1 magazine: $87,000
2 magazines or more: $83,200
Number of Employees Supervised
None: $62,000
1-4 employees: $73,000
5 employees or more: $97,500
Company Revenue
Less than $3 million: $65,100
$3 to $9.9 million: $78,800
$10 million or more: $95,400
Revenue of Respondent's Publications
Less than $3 million: $73,500
$3 million or more: $97,900
Paid/Controlled Publications
Paid only: $91,400
Controlled only: $85,300
Mix of both: $79,700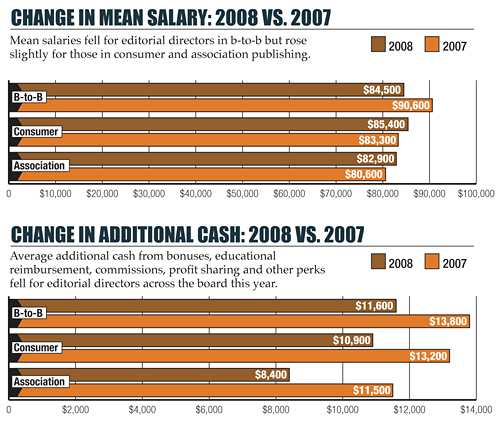 Source: FOLIO: and Readex Research