Salary by Category: Advertising Sales Director

SEE ALSO: Main Page
Advertising Sales or Regional Manager
Salesperson, Account Executive or Manager
ADVERTISING SALES DIRECTOR
In
2007, ad sales directors in b-to-b made an average total
compensation—including commission and other cash—that, at $133,000, was
about nine percent higher than their consumer counterparts, at
$122,000. This could be due, in part, to the fact that consumer ad
sales directors saw a steep drop of more than 16 percent in mean base
salary while directors in b-to-b saw a slight increase of almost
$2,000, or 2.5 percent. Association ad sales directors also beat out
those in consumer in terms of base salary but saw considerably
less—almost 20 percent—in average commission.
Location and gender
are a key factor in salaries. Ad sales directors in the New York City
area made almost 20 percent more than those outside the area in base
salary and almost 35 percent more in total compensation. Male directors
made almost 25 percent more than female directors in base salary and
almost 35 percent more in total compensation.
Flexibility was by far
the most rewarding aspect cited in verbatim responses. "I don't miss
any of my kids' events," one said. Following that was client
relationships. "Dealing with customers that have become friends. To see
those customers have success," one wrote.
On average, 38 percent
expect their total compensation to stay the same in 2008. Eight percent
expect a decrease of 10 percent or more, while 17 percent expect an
increase by that amount. But when asked about trends affecting
compensation, it was clear that many are worried about a looming
recession, both widespread in the U.S. and within their markets. "Real
estate market…I'm expecting a 30 percent decrease in revenue," one
director commented. "The U.S. economy is in a slump. This will affect
salaries," another wrote.
Some directors may be trying to make up
the difference by working more. Directors who say they worked 41-49
hours made an average $12,000 more in total compensation than those who
worked 40; those who say they worked 50 or more made $33,000 more than
those who worked 41-49.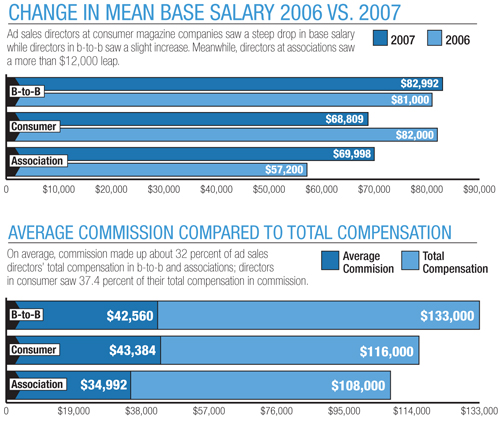 Source: FOLIO: and Readex Research
Meet the Author
---