ADVERTISING SALES OR REGIONAL MANAGER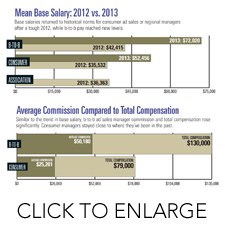 Compensation bounced back for advertising sales or regional managers in this year's survey after falling dramatically in 2012.
At $52,456, mean base salaries returned to 2011 levels for consumer ad sales managers, while jumping to $72,020—almost $30,000 more than last year—for those in b-to-b.
Commissions and total compensation followed a similar pattern, staying close to historical norms in the consumer sector, and increasing appreciably in b-to-b. Average commissions were up more than $10,000 and average total compensation rose $45,000 for b-to-b ad sales managers.
Not enough usable responses were collected to make a year-to-year comparison for association ad sales or regional managers.
Revenue of the respondents' publications always plays an important role in determining pay, but usually not as much as it did this year. Making an average of $141,000, those whose magazines generate at least $3 million earned close to double the amount of ad sales managers working for publications with less than $3 million in revenue.
Pay differences also grew between male and female ad sales managers. Men averaged $134,000, while women came in at $55,000.
Meet the Author
---