Rupert Murdoch

chairman and CEO, News Corp.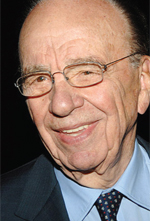 Defender of the media business or out-of-touch exec?
 In 2007, shortly after signing a deal to acquire Wall Street Journal parent Dow Jones & Co., Rupert Murdoch announced he was going to make WSJ.com free, a move he said would attract large numbers of big spending advertisers. At the time, WSJ.com had one of the few successful online paid subscription models with more than $100 million in revenue from paid content.  
Murdoch's desire to take WSJ.com to a free model was seen as the first step in taking a direct shot at The New York Times. However, by 2009, Murdoch had found an even more threatening rival than The New York  Times: The Internet and its culture of news aggregators and free content. Murdoch has since become one of, if not the single, weightiest and most vocal proponents of paid content and critics of both Google and online content aggregators.
In 2009, Murdoch announced a plan where all his newspaper Web sites would start charging for content. "Quality journalism is not cheap," said Murdoch. "The digital revolution has opened many new and inexpensive distribution channels but it has not made content free. We intend to charge for all our news Web sites." Charges for newspaper delivery via Blackberries and iPhones will soon be implemented. The pricing ranges from $1 per week for subscribers to $2 for non-subscribers.
Murdoch at times has said his company will block sites from search engines as they begin charging for content. "The aggregators and plagiarists will soon have to pay a price for the co-opting of our content," he said.  "But if we do not take advantage of the current movement toward paid content, it will be the content creators—the people in this hall—who will pay the ultimate price and the content kleptomaniacs who triumph."
Murdoch's stance—and vociferous way of defending it—has earned him much scorn among the online community, including journalists and columnists at the same established companies he says need to charge for content. However, that stance has also made Murdoch the standard bearer for beleaguered traditional media companies starting to fight back.
VITAL STATS: Newscorp is charging $1 per week for subscribers and $2 per week for non-subscribers for mobile.
BACK TO THE 2010 FOLIO: 40 MAIN PAGE 
Meet the Author
---