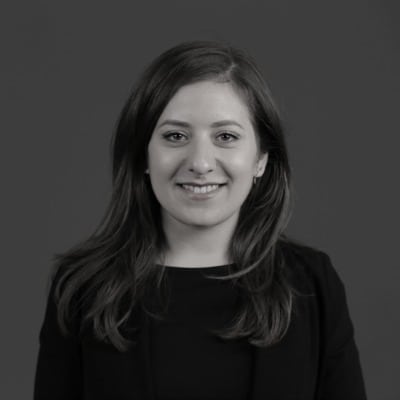 Rosie Gray goes to the White House press briefing room a few times a week, but she still hasn't gotten over its size.
"It's a cliché to say this, but the briefing room is really small, and it gets really packed," Gray tells Folio:.
It's been a month since Gray was assigned the role of White House correspondent, and five months since she joined The Atlantic from the political team at BuzzFeed News.
While she never spent much time at the White House before this role, neither had The Atlantic. Just 160 years and 30 presidents after the magazine launched, Gray was named as the first White House correspondent, ever, for the magazine.
"We don't have the bells and whistles yet," Gray tells Folio:.
The Atlantic has started the process of joining the official pool, but it can be slow. Gray doesn't have workspace at the White House, so most days when she goes there in the morning for a meeting or press conference, she returns to her desk at the Watergate complex to work.
Gray is one of 200 staffers working out of The Atlantic's D.C. headquarters, and one of 300 total. The politics team has tripled in size over the last 15 months as the magazine expands its focus on national politics — a move which readers have been eating up.
Staying true to the magazine's history of long-form, Gray and politics editor Yoni Appelbaum decided to focus on the themes and narratives that develop around the White House, rather than the day-to-day of the administration.
The result: thoughtful reporting which brings the reader deep into the complex power plays of the West Wing; Gray's approach to drama is astute, and perhaps best exemplified in the April 14 piece, "Are the Nationalists Losing the War for Trump's White House?" as well as her 3,500 word profile on Michael Anton from March 24.
But long-form doesn't mean slow paced.
"No two days are exactly the same," Gray tells Folio:. "You can never predict — especially with this White House — whether there's going to be some big breaking news situation late at night."
While her current approach has been going well so far — "my philosophy is to not get obsessed with how my pieces do but I think there's been a good response" — the future of the beat, she says, is up to the president.
"It will really depend on Donald Trump and in what direction his presidency goes. One of the overarching questions is this inner conflict between the nationalists and the centrists in his White House. This has real-world consequences, and following that story is going to be the central thing."
Editor's note: This piece has been updated to clarify that it was the politics team which tripled in 15 months, not the greater magazine staff.