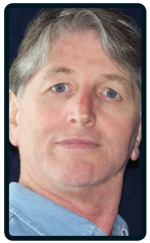 By leveraging social media even before there really was "social media," Creative COW has proven a small, independent publisher can dominate a niche.
Publishers today are scrambling to build up online communities. Creative COW (which stands for Communities of the World), is a peer-to-peer support resource for professionals in the film, broadcast and related fields that's used social media as its foundation since its launch in 2001 (the company's roots actually go further back to the mid-1990s, when Lindeboom partnered with another organization).
Today, Creative COW serves a market of more than 1.5 million professionals in three ways: more than 200 forums at its site (with a quarter million active accounts; training tools such as podcast and video; and newsletters and a print magazine.
"We've been doing this before anyone really had a word for it," says Lindeboom, who founded Creative COW with his wife Kathlyn. "At our core, we don't think we've changed much, the marketplace is catching up to what we've been doing. We've had moderated discussions from the very start. We've never allowed our forums to be on autopilot, every forum is moderated, every new poster watched until we're confident that they're legitimate."
Advertising is sold as a package across the different channels, rather than a standalone buy per medium. "For the most part we sell packages, we don't like to sell standalone things," says Lindeboom. "Our newsletters are our number one result generator for clickthroughs and conversions. One large camera manufacturer said they get more buys from our newsletters than any other advertising they use."
Podcasts are hugely popular (Blackberry recently asked to include Creative COW podcasts in its digital playbook) but they haven't been an advertising success. "In the last 30 days, we've had half a million people download podcasts but its tougher than nails to find sponsors for those things," says Lindeboom.
Where the company has had success is in building a paid circulation audience with its b-monthly magazine, charging $14.95  for an annual subscription and gradually converting controlled subscribers to paid. "We've now attained a level where our sub rate pays for at least one of our magazines," says Lindeboom.
VITAL STATS: Creative COW generates about $2 million in revenue per year.