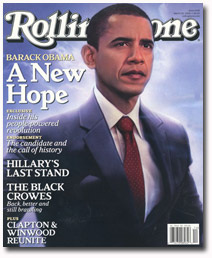 After reading your critiques of the Rolling Stone Obama cover, Tim O'Brien writes:
I'm the illustrator who painted Barack for the cover of Rolling Stone. It seems you've selected a group of designers with a lack of understanding of what Rolling Stone was doing here.

[Rolling Stone makes] no bones about viewing Barack in the most hopeful light. At the time of publication, the newsstands were brimming with photographs of the man, so in this instance, they chose illustration to push the cover out there to get some buzz. I seem to get used when the art director or editor is trying to make a serious point about a person. Sometimes it's a mocking image, such as a golden glow around a portrait of Hugo Chavez or Fidel Castro, and sometimes it's reeled in a bit to showcase a person in a respectful tone. I happen to like the cover and know that the ADs at Rolling Stone were thrilled.
[EDITOR'S NOTE: To check out more of Tim's work, including a detailed account of what went into executing the Obama cover, click here …]