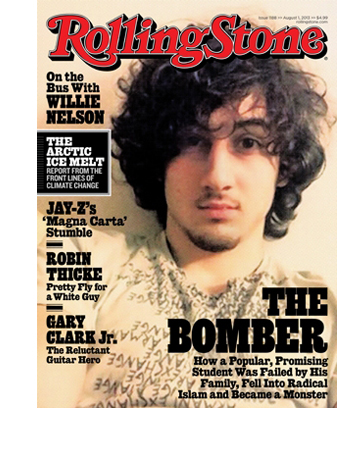 One of the more striking elements of Rolling Stone's latest cover story image is how Dzhokhar Tsarnaev looks like the kid next door. In a sense it has achieved a goal magazine publishers either embrace or run away from, attracting loud and impassioned criticism which leads to an enormous amount of coverage in mainstream and social media.
Some of the discussion focuses on giving an accused murderer the celebrity treatment—an aspect that's not to be downplayed. Rolling Stone does have a dual cover story approach that alternates between its celebrity coverage and more serious investigative pieces, but it appears many only remember its celeb covers. At least that's what CVS, Walgreens and other retailers have decided when they banned the issue from their newsstands. The rest of the debate reminds us that the cover is an alarming, journalistic, but honest, depiction of a face of terrorism we're not used to seeing. A microcosm of this conversation is happening now at FOLIO:'s Facebook page.
Here's Rolling Stone's statement in reply to all the coverage:
Our hearts go out to the victims of the Boston Marathon bombing, and our thoughts are always with them and their families. The cover story we are publishing this week falls within the traditions of journalism and Rolling Stone's long-standing commitment to serious and thoughtful coverage of the most important political and cultural issues of our day. The fact that Dzhokhar Tsarnaev is young, and in the same age group as many of our readers, makes it all the more important for us to examine the complexities of this issue and gain a more complete understanding of how a tragedy like this happens. –THE EDITORS
In the meantime, here's a range of outlets that have weighed in on the cover:
Boston.com
The Boston Marathon bomber is a rock star, says 'Rolling Stone'
The New Yorker
The Inconvenient Image of Dzhokhar Tsarnaev
Christian Science Monitor
Rolling Stone cover: Are stores going too far in pulling the magazine?
USA Today
Don't stone 'Rolling Stone' over Boston bomber cover
Slate
Rolling Stone's Boston Bomber Cover Is Brilliant
Huffington Post
Rolling Stone Boston Bomber Cover Story: Dzhokhar Tsarnaev Image Stirs Controversy, Boycotts