Rolling Stone Takes Another Digital Babystep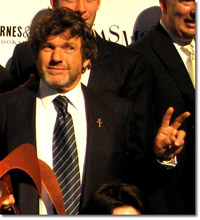 You can't say Rolling Stone founder Jann Wenner is a big fan of digital media. The CEO of Wenner Media, which also publishes US Weekly and Men's Journal, recently told BusinessWeek's Jon Fine "we never lost tons of money chasing down ridiculous online ideas." Nevertheless, Wenner has finally chased down what many publishers have been tinkering with for the last few years: digital editions. The last in a three-edition 40th anniversary series is available in its 213-page entirety as a digital edition, developed by Olive Software and sponsored by LG.
The free digital edition is accessed via a prominent "current issue" link on Rollingstone.com. There is no login step and users can access the content directly. The full text is available and some bands and songs within the copy are linked to Rhapsody, a two-year-old membership-based music service started by RealNetworks, which also powers Rolling Stone's Web site via a licensing agreement.
The digital edition follows closely behind the recent release of the first 40 years of Rolling Stone as a digital archive available in a DVD boxed set produced by Bondi Digital.
Meet the Author
---