Rolling Stone's Weird Week

Sex (Britney), drugs (tobacco, war on) and no rock-and-roll.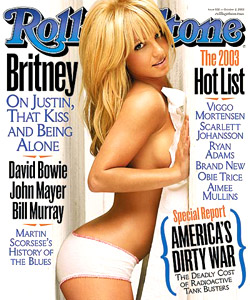 As you know, it's a long way to the top if you wanna rock and roll. And as far as magazine chatter goes, it's seemingly been a long week for Rolling Stone editor Jann Wenner.
Let's start here: the magazine published its seemingly four-hundredth 40th anniversary issue with something called "Indie Rock Universe," a nine-page spread-sponsored by cigarette maker R.J. Reynolds-that drew the ire of indie rock bands and those who monitor Big Tobacco (think Pacino in The Insider) for using cartoons in what they claim is an advertorial. R.J. Reynolds claims the cartoons were part of Rolling Stone's editorial and had nothing to do with them. Eight states filed suit against the company, and so far, Rolling Stone has been mum on the issue.
Then, of course, there was Britney.
America's careening pop star was reportedly in negotiations with Rolling Stone to appear on an upcoming cover for the magazine, only to back out of the deal. The reason? Last year, fellow pop star and former Backstreet Boy Nick Lachey allegedly shot a cover for Rolling Stone, only to appear on Wenner Media-owned Us Weekly instead. Spears wanted a guarantee from Wenner, but Rolling Stone apparently refused. ("It was going to be a good platform for her music to be taken seriously because it had been so long. But she refused to get screwed by Wenner," an unnamed source told Page Six. Spears has since contacted Blender magazine to appear on its cover, according to Page Six.
But the news out of Rolling Stone this week hasn't been all bad. The magazine published what should be an odds-on National Magazine Award favorite: "How America Lost the War on Drugs," a 15,000-word piece by Ben Wallace-Wells about the administration's failure to curb the war before the war in Iraq. Calling it the "smartest drug story of the year," Slate's venerable, sometimes-ornery media critic Jack Shafer wrote, "If I were maximum dictator, I would force every newspaper editor, every magazine editor, and every television producer in the land to read [it]."
Of course it wasn't about music, but that's another discussion entirely.
Meet the Author
---