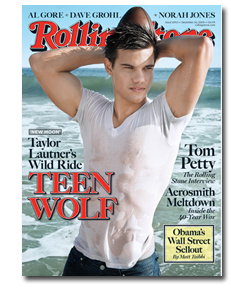 Move over Hard Rock Café. Watch out Planet Hollywood. A music magazine is leaping off the printed page into the frying pan.
Rolling Stone founder/editor/publisher Jann S. Wenner announced late last week a partnership with the principals of real estate developer the Lucky Rug Group to launch a 10,000 square-foot restaurant/bar/lounge/private event space next summer at Los Angeles' Hollywood and Highland Center—situated along the Hollywood Walk of Fame and home to Grauman's Chinese Theatre and the Kodak Theatre.
Details were sparse concerning the forthcoming mega venue's food menu and drink list but Wenner, et al., said it would feature "exposed black brick, tufted leather and vaulted ceilings throughout the location, as well as a stunning antique iron staircase." There won't be any music industry memorabilia (read:  bric-a-brac) like you see plastered all over the walls at a Hard Rock, though.
"We are both excited and determined to bring the spirit of the magazine to life—the edginess, the coolness, the classiness and the timelessness—in making this venue a place to see and be seen," Lucky Rug Group co-owner and Rolling Stone stakeholder Niall Donnelly said in the announcement.
Cool? Edgy? Sure, it's had its moments, but those aren't words I'd necessarily associate with the granddaddy of music magazines, at least not for the last several years.
At any rate, getting into the restaurant businesses for anyone is, well, risky businesses. Planet Hollywood, for instance, has filed for Chapter 11 bankruptcy protection a number of times.  
The Rolling Stone brand, though, seems like a strong enough platform from which to launch a restaurant/bar project. It's recognized across ages, gender and music preference. And, besides, Rolling Stone isn't the only print magazine business that's rolling the dice on branded venues.  
Maybe I'll check out the new restaurant some night, but only if Wenner's working the bar.