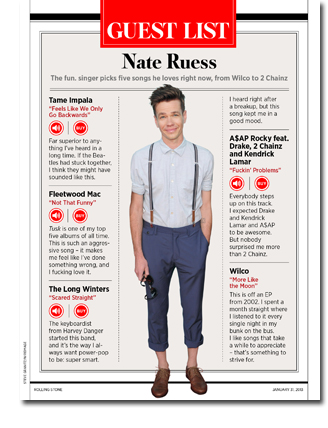 Rolling Stone's Jann Wenner may have famously downplayed the potential of tablet editions, but the brand has just launched a fully featured iPad app that also incorporates song samples and purchasing opportunities through iTunes. The wait, it seems, has given the title valuable insight into tablet design and functionality as other Wenner Media brands, and other publishers, took the plunge first.
When asked what took so long, design director Joseph Hutchinson reminded us that Rolling Stone has had Zinio, Nook and Kindle Fire versions available, but the iPad app is the first version to stretch out into full tablet functionality, rather than a simple PDF format. "It wasn't a long wait, it was a planned progression of how we wanted to launch digitally," says Hutchinson.
The title also did a one-off Beatle's special for the iPad in 2010. "I think doing that first app on the Beatles was a learning experience for us on how much work this was going to be," he adds.
Sister publication Us Weekly, which has had an iPad app available, also provided some guidance. "We watched what US Weekly built and learned from them," says Hutchinson. "Some of the ideas they created, especially the galleries, made us think we could do that with Rolling Stone."
Hutchinson added that by taking their time, the team watched the trend of bloated tablet feature sets come and go. "Other publications came out with fabulous apps, but they were very complex and I've seen some of those titles scale a lot of that back. It takes a lot to produce those multimedia elements and in some cases the reader just wants to get closer to the content as opposed to the bells and whistles."
The built-in song sampling and purchase features were conceived right from the start, and were also a part of the Beatles one-off. The idea, aside from the obvious affiliate revenue, was to enhance the reader experience. The magazine's Playlist section, which often highlights tunes that have yet to be released, will also feature the playback function, which means the app will stream that content from browser-based sources other than iTunes.