Rolling Stone Gives (Third) 40th Anniversary Issue Digital Treatment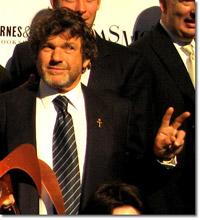 This week, Rolling Stone-celebrating its third 40th anniversary issue, for those of you keeping score at home-posted a free digital version of its anniversary issue on its Web site. The 213-page digital edition-the first ever for Rolling Stone-includes links to music mentioned in the issue via RealNetworks' Rhapsody music service. The issue is sponsored by LG.
The move is another break from tradition for Rolling Stone, which has been maddeningly slow to enhance its Web product-equal parts an extension of its licensing agreement with RealNetworks (Rolling Stone does not own its Web site) and of founder Jann Wenner's reluctance to overshadow the sizable brand equity built by the magazine.
"We never lost tons of money chasing down ridiculous online ideas," Wenner recently told BusinessWeek. "Right now we have two online, two Web sites [for Rolling Stone and Us Weekly] that are both profitable and big and well-used. And we have yet to ramp them up to be as big as we're planning, which we are planning to do now. We're not just trying to replicate the magazines, but we've got strong brands that stand for something, and we are going to build those Web sites up."
RollingStone.com had 1.5 million unique visitors in September, according to Nielsen Online. MTV.com, by comparison, had 7.2 million unique visitors in September. Through the first three quarters of 2007, though, RollingStone.com has averaged 4.6 million unique vistors a month, more than MTV.com's 4.5 million uniques average, according to Nielsen.
And Wenner is coming around on digital, if slowly. Last month Rolling Stone unveiled a boxed set of its entire, 40-year print archive on DVD.
Meet the Author
---