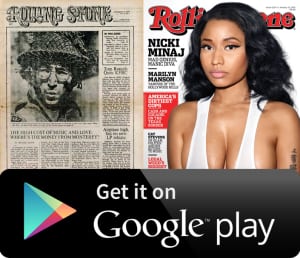 ​Rolling Stone will soon leverage its archive, like many other legacy brands already have. In this instance, the brand is teaming up with Google Play in order to offer every issue of the magazine—dating back 47 years—in a digital format.
What's more, the brand is also launching a daily newsfeed through Play and a new vertical on its site called CoverWall. CoverWall will be an immersive content experience that blends multimedia formats to tell stories. This is by no means an experimental concept anymore, brands like WIRED, The New York Times, Pitchfork, Complex and others have already rolled out their own immersive designs. Nevertheless, this is a noteworthy direction for Rolling Stone, who entered the digital environment late and with haste.
Rather than keeping the archive in house, like other brands—Playboy, Scientific American and Vogue—Rolling Stone felt that Google Play was the best route. "Google's history of innovation makes them the perfect fit for our brand which is why we wanted to try something totally unique together," says Gus Wenner, head of digital at Wenner Media, in a statement.
The archive and Rolling Stone Now will become available on Jan. 30.