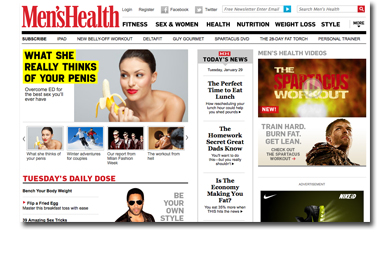 Bill Phillips, who became vice president and editor-in-chief of Men's Health when David Zinczenko left last November, cut his teeth on the brand's website. He oversees the editorial development of both the website and the magazine now, but here Phillips checks in with FOLIO: to recount what it took to bring the website into its own as a standalone brand—distinct from Men's Health the magazine.
His perspective is unique because we so often think of a brand's website as an offshoot of the print magazine—and still often heavily dependent on its content. But Phillips contends that the more you're able to treat the website as its own entity, the more successful you'll be with its growth.
Phillips says that growth across the Men's Health digital assets has fundamentally come from understanding that audiences have different needs and wants from each platform—website, social and tablet. Acknowledging that and treating each platform as its own product helped contribute to their growth.
Now, according to Rodale, Men's Health has passed 125,000 subscribers to its tablet edition and is trending for a record January with 12 million unique visitors to the site. In 2012, the site averaged 9.4 million uniques per month.
FOLIO: Talk about how the print magazine and the website were run editorially when you took over as editor-in-chief of MensHealth.com.
Bill Phillips: At the time we had the print editors on one side of the foyer and the web editors on the other side of the foyer and no one ever crossed it. We hardly knew each other, and yet all the institutional knowledge was on the print product. Almost all of the staff on the web side had never been exposed to any of the parameters that we expose the print side to, to make sure they understand what makes a great Men's Health story—they hadn't gone through any of that training.

FOLIO: What were some early strategies for building traffic to the site?
Phillips: At the time we had a daily newsletter that went out to 500,000 people. Newsletters drove traffic back to the site and at the time they were driving about 2 million page views per month. The first month we started editing them better and raising the editorial standards, we brought 3 million page views. The second month it was 5 million. Before we knew it, it was 22 million. It was the same number of newsletters, but it was better editorial quality and more of a Men's Health point of view and tone.
Quality editorial always wins, you just have to make sure it's up to your standards.
FOLIO: How did the arrival of tablets impact your digital strategy?
Phillips: The year 2009 was a big year for experimentation. When the ipad came out we were there with a PDF version on the first day. We knew we wanted to be there.
It became clear early on that these were all different people. We were hoping to find new fans in different places. So we quit thinking about any of this stuff as extensions of Men's Health magazine and we started running everything as its own business.
The website is it's own business, it's not an extension of the magazine at all. We do put some of the magazine content online, but 97 percent of it is all original.
If you're running a website and you want to grow it from a few million dollars in revenue to tens of millions of dollars you have to look at it as its own business and you have to look at the ad model, the e-commerce model, and figure out how to grow it.
It became obvious that we had to get into daily publishing so that became the next phase of MensHealth.com. The Men's Health news microsite became the area where we were doing five or six news stories every day.
That got a lot of traction, so people found out they could come to the site every day and fine something new.
FOLIO: How did the social web figure into all of this?

Phillips: We knew that we couldn't sit back and let people on Facebook and Twitter find their way to MensHealth.com. We needed to go to them. So we use our Facebook and Twitter feeds to push people back to the site, but we largely are there to be part of the community and to serve that community.
That became another leg of the stool. In order to drive our digital growth, we had to focus on social and understand what the different platforms demand and what those fans and followers wanted. They largely want to be part of the community and have their voices heard. So on Twitter we're not trying to sell them books, they don' t want that. They just want to talk to us, and that's fine, we're happy to talk to them all day long.
Again, it's about understanding who that person is and giving them what they want, where they want it. That's become the model in social, on the site and with our tablet edition. We didn't come out of the gate authenticating because we wanted to reach that reader who wants a digital edition of Men's Health and is willing to pay for it. And 125,000 people have seen that value and are willing to pay for it. That's its own business.
When you think of each of these areas as separate business, it gets exciting because it's not about shoveling the same content in every place, you're thinking about serving a different reader in every place.