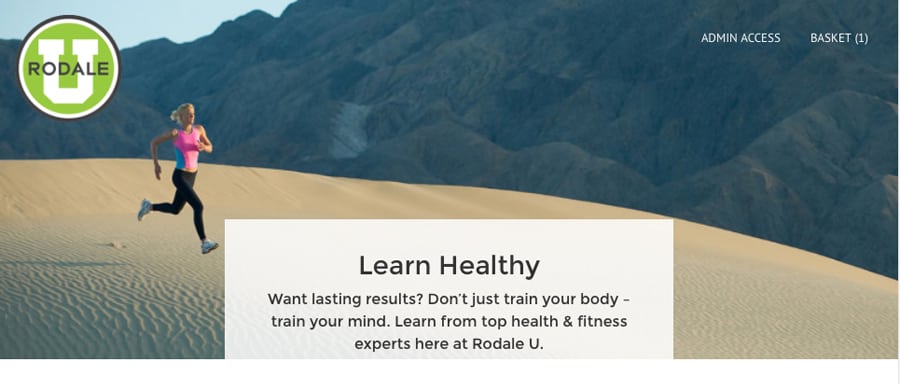 Rodale has been on a roll over the last several months with new product launches. One of the latest is Rodale U, an online education platform that offers fee-based courses in exercise, nutrition and health that align with the publisher's brand portfolio.
For an enthusiast and lifestyle publisher like Rodale, where the content has always been about how to get better at a particular passion, the online education modules provide much of the same content, but in concentrated form.
"Our vertical focus on health and wellness fits really well with education and learning," says Rodale president Scott Schulman. "We view it as a natural extension of our basic mission and we view it as another business model, which is important. It's another digital business with user revenue streams and with an opportunity for sponsor revenue as well."
With an online module called "Lose Your Spare Tire," Men's Health is charging $34.95 for access to much of same kind of content it's been creating all along, organized into a multimedia syllabus that includes video tutorials, nutrition programs and workout regimens.
The course content is not repurposed from previously published material, but it does leverage the knowledge base of editorial staff and outside contributors the company has worked with.
Three more courses will be available in the next few weeks ("Run Your First Marathon," "Bike Maintenance 101," and "Sugar Smart") and Rodale plans to roll out another half-dozen during 2015.
The content is created by existing editorial staff and the platform and commerce tech is provided through a partnership with Thought Industries.
The incremental costs are not much, says Schulman, mostly because Rodale already has the talent and infrastructure in place. The video and other content is created within current means and the company has been able to tap into its book division to recruit authors to create some of the course syllabi.
Schulman says they'll continue to experiment with price points. Bundles may be one option as they add more course content and certain courses may provide an easy sponsorship opportunity, which could help lower the cost to the consumer.
Rodale U is one of several new initiatives from the company. It just launched a new site called EatClean.com and a new magazine, Organic Life, is on deck to launch.