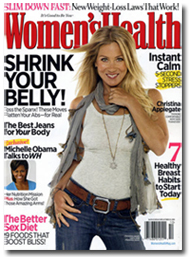 Emmaus, Pennsylvania-based Rodale Inc. has struck a licensing agreement and marketing partnership with EB Brands, parent company of the EB Sport Group, to sell Men's Health- and Women's Health-branded workout kits and other products.
The Men's Health "Ultimate Total-Body Workout," designed by the magazine's editors, includes select equipment and a customized workout poster for a six-week exercise program. Also included is a free one-year subscription to the digital edition of the magazine and a free three-month trial offer to Men's Health "Personal Trainer," a customized fitness and nutrition premium content Web site.
Women's Health will offer a similar editor-developed program, "Lean Body Workout," as well as an identical trial offer of customized content for readers (instead of "Personal Trainer," the Women's Health premium content site will be "Fit Coach.")
The branded workout kits will retail for $49.99 and be available in mid-October at major sporting goods retailers and specialty stores nationwide and at GetFitKit.com in late October.
According to Tamra Knepfer, Rodale's senior vice president of licensing and business development, by combining "EB's knowledge of the fitness product market and their leadership in product innovation with Rodale's editorial expertise and brand strength, we are creating products that help consumers achieve their fitness goals."
Rodale's Prevention and Runner's World will also debut products in the fitness accessory and fitness monitor categories. The promotional license also enables EB Sport Group to feature special Rodale added-value on-pack offers, which include digital magazine subscriptions and online subscription services on EB Sport's products, Rodale said.