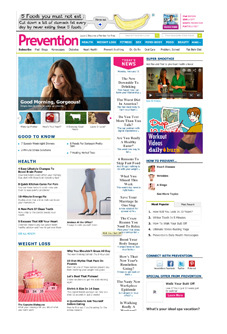 Prevention.com has had four record-breaking months in a row, growing by an average of 200,000 unique visitors per month since October 2012. Direct load has quadrupled year-over-year and the brand attracted 6 million unique visitors in January—almost double the amount from Jan. 2012—and saw a growth of 1.8 million between Dec. 2012 and Jan. 2013.
Yet, there are hundreds of thousands of healthy living websites, blogs, microsites and apps out there that deliver content to consumers, something Prevention.com's executive editor, Siobhan O'Connor, recognized and actively leveraged that knowledge into the site's redesign, which went live last month.
"We've seen leaps in the last six months," she says. "Natural search doubled in 2012, our visitors from social media was up by more than 12 times from the year before. We've increased our daily publishing volume and even more important than that is we've made the quality of the writing so much better."
Prevention.com changed its focus six months ago by increasing the amount of breaking news articles and service pieces it provides to its readers with the goal of becoming more of a resource for and authority on healthy living. The editor says online content has been made more conversational and the site has rolled out increased visual elements and interactivity to deliver on consumer trends O'Connor was seeing.
"Every change that we made was done with the reader in mind," says O'Connor. "We significantly ramped up our daily news operations. In addition to all of our evergreen content, we have a daily news program where we publish stories about breaking scientific and health research, adding sometimes up to 10 new stories a day. It's important to us because we want to be breaking news so people know to come to us first for this kind of information."
In addition to increasing content production, the editor says the site has more interactivity with utility tools that users can take advantage of, in addition to an increased amount of photo slideshows that are updated daily, as well as increased video aspects.
"A jumble of headlines where the reader doesn't know where to put their eyes doesn't really help them," she says. "Every channel of Prevention.com visually reflects the quality of the work done. You used to visit different channels and see a jumble of headlines, but now at the top of every single channel there is a big slider, which is changed every day by an actual editor. We're relying less and less on auto-populating our pages and really curating our pages. Every editor interacts with the content and moves things around to give the readers more of what they have been responding to most. It goes against the conventional wisdom of publishing, but we've had tremendous success with this."
While the visual and content elements changed, the editor says the back-end hasn't changed since Prevention.com already went through a major overhaul last year when it moved over to a Drupal platform.
"Everyone knows you can get syndication hits and have a great month," she says. "But it's not something you can rely on when you're trying to grow your site."
Stay updated on the latest FOLIO: news, follow us on Facebook & Twitter!