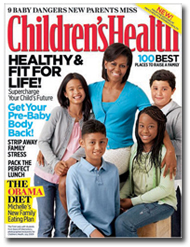 Emmaus, Pennsylvania-based Rodale Inc. is planning to extend its Men's Health and Women's Health magazine brands by launching a title called Children's Health. The special newsstand-only issue, which will carry an initial print run of 750,000, will hit store shelves on September 15.
"This is a newsstand special that represents our first look and effort in the parenting space," Men's Health publisher Jack Essig told FOLIO:. "Rodale has shown time and again that we have an unparalleled ability to successfully launch health and wellness brands across a variety of platforms. We look forward to using this same approach to help parents make the right decisions for their families."
With a $5.99 cover price, the 112-page issue features 15 ad pages, Essig said. Advertisers include General Mills, Ralph Lauren and Vtech. Rodale will donate a portion of its ad dollars to various charities that support children's health, like Save the Children.
A companion Web site will go live when the issue hits newsstands, Essig said.
Children's Health also will feature First Lady Michelle Obama on the cover and an interview inside. In addition, Rodale will publish interviews with Michelle Obama in the October issue of Women's Health and the November issue of Prevention. President Barack Obama will be the cover story of the October issue of Men's Health.
The Men's Health and Women's Health articles, according to the New York Times, will publicize the Obama health care reform plan, with Men's Health "strongly endorsing it." The series was the brainchild of Men's Health editor Peter Moore, who contacted the White House this spring with the idea of publishing articles about the healthcare plan across Rodale's titles.
Essig said the series poses no editorial conflict of interest. "As a company that publishes magazines about health, we would be remiss not to cover this important topic," he said. "Each month, we provide our readers with the information they need to make decisions that impact their lives. This is both a timely and topical issue that we know our readers have a strong interest in."
According to the New York Times story, Rodale is taking a "try-it-and-see approach" with Children's Health, indicating that Rodale doesn't have specific plans to publish the magazine regularly.