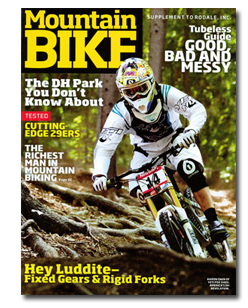 Men's Health publisher Rodale Inc. has quietly folded Mountain Bike magazine into larger sister title Bicycling. The November 2010 issue of Mountain Bike will be its last. The announcement was made among "the cycling community" late last month.
Launched 25 years ago, Mountain Bike was published six times annually as a supplement to Bicycling with a circulation of 155,000. A Rodale spokesperson tells FOLIO: that neither Bicycling's 425,000 circulation or its 11x publishing cycle will be changed as a result of the merger.
Moving forward, the print edition of Bicycling will feature more content on mountain bikes and biking. Bicycling.com now will feature a dedicated Mountain Bike channel.
An undisclosed number of layoffs were associated with the merger.
According to Bicycling editor-in-chief Peter Flax, combining Mountain Bike with Bicycling makes strategic sense editorially, allowing his edit team to "focus on extending Bicycling's position as the world's leading cycling magazine and to put all of our biking-related content under one roof."
Chris Lambiase, who recently was promoted to senior vice president and publishing director for Rodale's sports titles, will continue to oversee Bicycling's print and digital advertising sales and marketing operations. Meanwhile, mountain biking edit content for the magazine will be handled by Mountain Bike editor Lou Mazzante, who will report to Flax.