Rodale.com Relaunches as an Actual Product

Corporate Web site moves to a new URL.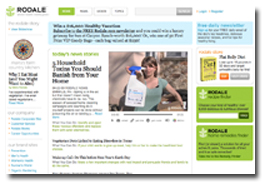 Rodale.com, the former home of
Rodale's general, corporate Web site, has been relaunched as an
editorially-driven product. Rodale chairman, Maria Rodale, will be the
site's editor-in-chief.
The company's corporate site, which was also redesigned, is now located at Rodaleinc.com.
Timed to coincide with Earth Day, the Rodale.com launch is an effort
to corral and promote the company's overall healthy living
philosophy—separate from Rodale's individual sites—to a new audience
segment, Maria Rodale said. "Each of our existing sites is a vital
destination for adherents of our individual brands, each of which has
its own distinct voice and area of expertise. With Rodale.com, we're
reaching a different audience looking for content that makes the
connection between personal and environmental health, which is a new
and exciting area for us to explore online."
Branding the site with the company's name leverages its history of "healthy living and environmental stewardship," Ms. Rodale said.
The company expects customers familiar with its brands will visit
the site, but the strategy is to attract new visitors as well. "We
believe that some users of our existing sites will be interested in
this information—for example the Prevention.com reader who wants to
understand the environmental as well as health benefits of organic
food—but we also believe that we can attract new users who are curious
and passionate about these issues," said Ms. Rodale.
Meet the Author
---