A-Rod Juices Traffic for SI, ESPN

SI's swimsuit issue slim on ads, but bikini-ogling traffic surges.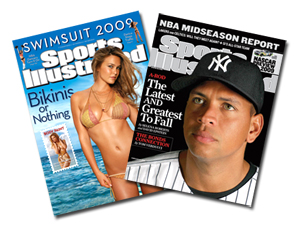 The steroid scandal surrounding Alex Rodriguez—a story broken by Sports Illustrated's Selena Roberts—boosted traffic to SI's Web site last week, but helped its rival, too.
SI.com saw a 31 percent increase in unique visitors on Saturday when the story was first posted, according to a spokesperson for the magazine. There were approximately 1.3 million unique visitors to SI.com that day, the spokesperson said.
But the "A-Roid" saga was a boon to ESPN, too. ESPN senior baseball writer Peter Gammons scored the first interview with the Yankees slugger, and the interview was viewed more than 2 million times within the first 24 hours of its posting, according to an ESPN spokesperson.
Meanwhile, ESPN.com's top five stories about A-Rod drove 1.6 million unique visits, in the first 24 hours after the A-Rod news broke. Its baseball content saw 2.5-times more visits and page views than it normally averages in February, ESPN said.
It was going to be a big week for SI—with or without A-Rod. SI's annual swimsuit issue, released Monday, was thinner than most (ad pages were down 33 percent compared to 2008). But the franchise delivered a boost online.
SI said the bikini videos served on SI.com were viewed 5.7 million during the first two days the issue went live online, up from 3.3 million over six weeks in 2008. The magazine also produced a dedicated YouTube Swimsuit channel, which produced an additional 1.8 million video views over the first two days of launch.
By comparison, SI's YouTube channel in 2008 had 2.1 million views for the entire month of February.
Meet the Author
---