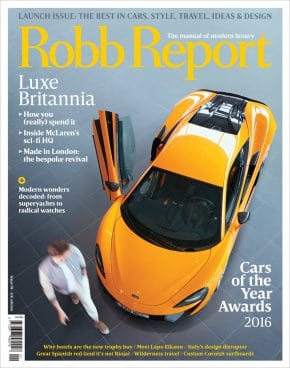 Robb Report is officially London-bound.
The 40-year-old luxury lifestyle magazine announced today the launch of Robb Report UK, its 16th international edition, in a joint venture with Lonon-based publisher and creative agency Brave New World.
The quarterly title, the debut issue of which hit newsstands today, features an editorial team led by editor-in-chief James Collard, Brave New World partner and former editor of The Times of London's lifestyle magazine, Times Luxx; and editor Paul Croughton, Brave New World's head of digital and a former Sunday Times editor.
Contributors to the new launch include Stephen Bayley, Simon Crompton, Mark Ellwood, Tina Gaudoin, and David Lamb.
"Robb Report is an important brand in the world of luxury and we are relishing the task of giving it a British flavour and sense of style," wrote Crispin Jameson, Brave New World CEO, in a statement.
The 148-page first issue carries a cover price of £6 ($8.59 at press time) and brings British affluents content in all of the same areas as Robb Report's other international editions: luxury cars, watches, style, travel, food and wine, culture, art and design, among others.
Headlined "Luxe Brittanica," and featuring the magazine's annual Car of the Year Awards, the issue will see a print run of 52,000.
The UK launch comes exactly one month after Robb Report announced an expansion into Germany. That edition will debut in October with a print run of 100,000 copies.
Stephen Colvin took over as Robb Report CEO in November, replacing longtime CEO Bill Curtis, who shifted to vice chairman.
"We plan to continue to grow and evolve by focusing on our four strategic areas: the evolution of our franchise brand, Robb Report magazine, our continued investment in digital, international development and experiential luxury," Colvin told Folio: at the time.
The British and German launches join existing international editions in Brazil, China, Spain, Russia, and Thailand, among others.
A New Publisher

In somewhat related news, Robb Report announced yesterday that veteran publisher Matthew Carroll has joined the brand as SVP, publisher and head of digital sales for both the magazine and RobbReport.com. He'll be based in the New York office, starting May 2nd.
Carroll brings an extensive resume of media sales experience, spending several years in various roles at Modern Luxury Media before joining Time Inc. as VP, associate publisher of Travel + Leisure. Last year, he helped execute the expansion of UK-based design and architecture magazine Wallpaper* into the U.S. market.
► See also: Talking Luxury Publishing with Robb Report Editor Brett Anderson