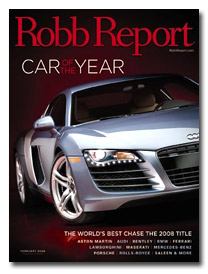 CurtCo Media has put its flagship Robb Report magazine on the block again.
According to sources knowledgeable in magazine M&A, CurtCo is in the "middle stages" of acquisition talks, most likely with "big international groups" possibly from the U.K. or Germany.
A CurtCo spokesperson did not immediately return a request for comment.
"The partners are looking to sell," one source tells FOLIO:, indicating that CurtCo could be seeking upwards of $100 million. "It's an attractive asset. While they aren't recession-proof, necessarily, the super luxury segment tends not to take as big a hit in tough economic times as other magazines do. Even though ad numbers may be down slightly at Robb Report, that's not a bad thing.
"CurtCo wants to have a deal done before the end of the year," adds the source.
According to Publishers Information Bureau, ad pages through the first nine months are down 4.6 percent compared to the same period in 2007. Meanwhile, estimated ad revenue was $22 million, up 3 percent from the same period last year.
In 2006, CurtCo Media hired investment bank Goldman Sachs to handle the potential sale of the company with DeSilva + Phillips acting as co-brokers. With an asking price reportedly at $500 million (at the time, annual revenue was said to be about $100 million and EBITDA roughly $20 million) a deal never materialized.
In February, CurtCo sold Worth magazine to Boca Raton, Forida-based Sandow Media for an undisclosed amount. Also, a potential investment in CurtCo by private equity firm Elevation Partners reportedly fell apart.
Earlier this month, CurtCo named Donald T. Schmoll vice president and group marketing director for its Robb Report magazine group.
According to its Web site, Robb Report has a rate base of 120,000. The magazine also publishes editions in China, India, Russia, Spain, Singapore and Turkey.