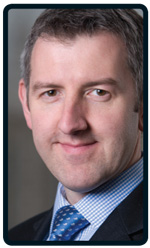 Though FT.com launched their paid content strategy in 2000, they are still one of the most successful paywall stories to date. Paywall architect Rob Grimshaw is credited with much of FT's success. 
In a time when it seems as if virtually every publisher is attempting to discover the best way to monetize content, FT.com had it down a decade ago.
But FT.com managing director Rob Grimshaw knows there is no time to sit back and revel in paywall success. He says, "We focused on scaling the subscription business in 2010 and that delivered beyond my expectations. Although we'll continue to devote much energy to building subscription revenues in 2011, we now need to turn our attention to other big challenges down the road."
One of those challenges is mobile. Grimshaw says that in the near future, publishers may experience more traffic through mobile devices than computers.
"We have to learn not simply how to present our content on a mobile device, but also how to do a substantial portion of our overall business in the mobile channel," says Grimshaw. "Publishers that are still treating mobile as a fringe activity are liable to be caught out by this rapid shift in reader habits."
In 2010, there were 900,000 downloads of apps for mobile and tablet technologies. Grimshaw shared that weekly, 15 percent of new digital subs are bought via mobile devices. FT.com is ramping up mobile efforts in 2011 with new smartphone and tablet versions of their Android app, as well as a new API on the back end "to drive mobile applications."
FT.com also has plans to increase their social media offerings. Currently at 1 million Twitter followers and 140,000 Facebook fans, FT.com is poised to extend the community and draw in more subscribers through these social media channels.
"As a paid site, we have to be careful we don't lose control of our content and that made us cautious in previous years," says Grimshaw. "However, we're now confident we've established some approaches that strike the right balance and we want to explore further."
Handled in the right way, social media can extend our FT community and bring more potential subscribers, he adds. "It can also help our existing subscribers find more ways to get value from our content and that's really important," says Grimshaw.
VITAL STATS: Digital subscriptions are up 50 percent to 207,000.