Roadstar Editor: Shuttering Award-Winning Magazine 'Not a Decision We Took Lightly'

With magazine on ice, parent company to launch trucking search engine.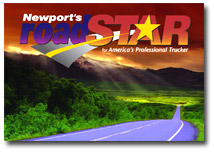 As FOLIO: first reported last week, Irvine, California-based Newport Publications will shutter publication of Roadstar—the award-winning trucking magazine—in January, the company confirmed in a statement released Monday.
The decision to shutter Roadstar—which was distributed throughout the country at truckstops—is based on a shift in marketers' focus away from publications distributed at newsstands and towards other products, such as "fuel-top" advertising which carry marketing messages to truckers as they are fueling.
"There has been a great deal of consolidation and upheaval in the truckstop marketplace," Marty McClellan, Newport vice president-publishing and RoadStar publisher said in a statement. "That, combined with marketers' dwindling focus on the 'second-tier' long-haul driver segment, has caused us to re-evaluate how we serve this market."
"We have no intention of abandoning the important owner-operator segment. We will continue to serve independent truckers through other, more effective programs" as "Pump Toppers," Newport's fuel island advertising program.
Newport editorial director Deborah Whistler said shuttering the publication "was not a decision we took lightly."
Newport also publishes the 120,000-circulation Heavy Duty Trucking. And it appears the company will also shift its energy from Roadstar to digital. Newport plans to launch the first trucking-specific Internet search engine—truckingseek.com—in January.
Meet the Author
---