Risky Business

Forbes editor Randall Lane infuses a new entrepreneurial spirit in the brand.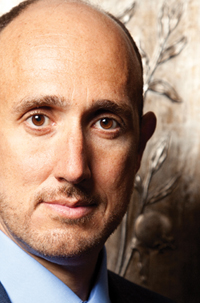 Randall Lane was working in an office building filled with unpacked boxes and exposed pipes "at the far fringe of the Garment District" when Folio: put him on the cover in 2007.
Back then, he was at the head of Doubledown Media—the founder of a portfolio of high-end titles including Trader Monthly aimed at the "rock stars" of finance. Jim Dunning, the company's chairman, floated the ambitious goal of making Doubledown into a $100 million enterprise.
Revenues swelled to eight figures in just four years, then, along with the stock market bubble of the 2000s, it burst. The company abruptly and unceremoniously folded in early 2009. For his part, Dunning was said to have invested $8 million in the company.
Three years later, Lane now works in a majestic neoclassical with the words "Forbes Magazine" etched in stone above the entrance. He walks up a set of white marble steps, passing, among other prized memorabilia, letters from several U.S. presidents, on the way to his office.
Still covering the rich and famous, it's a more fitting place of work.
"Trader Monthly proved ephemeral because for the decade of the 2000s, trading was hot, and then, trading was really, really not hot," Lane says. "At Forbes, the idea of being an entrepreneur, or thinking differently, having contrarian thoughts, being smart and taking control of your own life, those are eternal messages."
"You need a brand that stands for something. That's the most important thing."
… 
After Doubledown and before Forbes, Randall Lane was editor-at-large of Newsweek and The Daily Beast. Find out what he thinks of their move to go all-digital in this exclusive video interview.
… 
The "95-Year-Old Startup"
Despite the history, the luxuries of the 5th Avenue offices, the global staff, and perks that come with reporting on the world's wealthiest individuals, the company calls itself a "95-year-old startup." One hears "entrepreneurial spirit" and "celebration of the individual" thrown around when asking those who work there to describe the brand.
Forbes, it seems, is maintaining a balance between those risk-taking values it espouses and its time-tested marquee. By bringing on people like Lane and chief product officer Lewis D'Vorkin—both formerly the heads of their own companies; both in their second stint at Forbes—it's able to live in both worlds.
Changes began when D'Vorkin's online news startup True/Slant was bought by Forbes Media in 2010. The acquisition brought D'Vorkin and an on-going re-architecture project along with it.
"We simultaneously redesigned the magazine and reinvented our entire digital operation so that it was built on the notion of putting our authoritative journalism at the center of the social media experience," D'Vorkin says, also noting that the publication was an early-mover to the web during his time as executive editor in the 1990s.
Among the more notable changes were the adoption and scaling of a vast contributor network, and the introduction of the BrandVoice (originally named AdVoice) marketing platform.
The overall strategy is one that mimics the free flow on information on the greater Web. There are no paywalls or signups; there is some, but little hierarchy. Anyone with something valuable to contribute will be heard.
Like the rest of the industry, Forbes seems to still be figuring out exactly how to integrate that strategy with its print product.
Strictly speaking, both are performing well. Numbers are up on both mediums. They're less certain about how one is affecting the other. Right now the effort is more of an overall branding campaign than anything quantifiable. The relationship between the two is still working itself out.
"When we're publishing to 37 million viewers [online], we are extending our brand and our content to a lot of people who are becoming more aware of the Forbes brand. And that awareness plays out across all our platforms," D'Vorkin says.
"We certainly aren't going to hold anything for the magazine if it's hot," he notes however. "We put it our there when it's current and new and fresh. That world of 'We'll save it for the magazine,' does not exist in our world anymore."
Whether print or digitally-driven, Forbes has gotten a bump since Lane arrived. Ad pages are up 6 percent in 2012, while the industry as a whole, along with nearly all in their competitive set—Bloomberg Businessweek (-1.11 percent), Fortune (-5.28) and The Economist (-9.73)—have suffered declines, according to data collected by Media Industry Newsletter.
WSJ. Magazine is the only competitor to have growth in ad pages over that span, up 32 percent from 2011. Part of that rapid growth is attributable to its much smaller volume, however.
The pattern follows on the newsstand. Forbes was up more than 4 percent in single-copy sales year-over-year in the first half of 2012, surpassing 25,000 on average, though it dipped slightly from the end of 2011. Fortune (-10.55), Businessweek (-14.85) and The Economist (-18.46) each decreased, according to the Alliance for Audited Media.
Those gains were the first since 2009, and one of a select few since the magazine reached its high-water circulation mark in the mid-2000s.
Subscriptions declined slightly in the last year, but remain above where they were before Lane's arrival despite a $7 price increase.
Concurrently, comScore has reported Forbes.com has seen unique visits increase 31 percent year-over-year and 74 percent over a two-year period as of October. Forbes has also increased digital revenue 22 percent, according to its own internal figures.
"It's a magazine, it's a daily digital experience, it's a mobile experience which is exploding," Lane says. "But again, they have to all be consistent with the brand."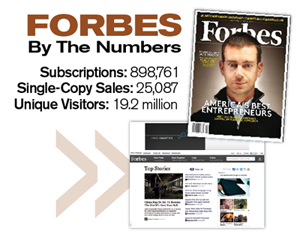 The "Rich List"
Forbes undertook what to some was a major change in its Forbes 400 list.
The staple (and a cash-cow, with almost 59,000 single-copy sales) of the brand, the issue shifted from the familiar stun-the-reader-with-wealth approach, instead rebranding the 30th annual edition with a focus on philanthropy.
The change, Lane says, was a natural fit. It was both indicative of a growing movement within the culture and a way to lead the audience in a new direction. While the motives were sound, execution remained imperative. It was important to engineer the change it in a way that would stay within in the brand, to not overreach.
"I think if you're a strong print brand and a strong media brand you have a point of view, and having a point of view means you use that platform to advance interests you think are beneficial," Lane says. "So the fact that we are seen as the definitive chronicler and scorekeeper of wealth and power, it's both consistent and the appropriate thing to do, to try and use that soapbox for good."
Lane, whose first job as a reporter at Forbes brought him into close contact with the "rich list," is continuing to leverage both his experience and the role as the "scorekeeper of wealth and power."
The Forbes 400 event was rebooted as the Forbes 400 Summit on Philanthropy, while luxury supplement Forbes Life underwent its own overhaul. An annual 30 Under 30 feature was also launched with an accompanying event.
"We did that at POV [a men's magazine Lane founded] in the 90s, we did it at Trader Monthly," he says. "They were huge successes. Hundreds of thousands of people read about it because there's something about young success and young money that people are really fascinated by."
With a series of Forbes Insights conferences planned for the first quarter of 2013, Lane admits events like the Forbes 400 Summit, the 30 Under 30 party and an upcoming healthcare conference in December, are something he'd like to explore more moving forward.
"Interacting with your readers, your users and your audience is something that just adds to the resonance of the experience of being part of Forbes," he says. "It's something marketers want, it's something our readers and users want. It's a win-win, as long as you're producing things that are not tangential—that are core to your brand, that are relevant to the people attending and have a high production value."
"We're Not Trying to Boil the Ocean"
So far, the changes have been rolled out one at a time, one small bet after another.
That's one of the lessons Lane and D'Vorkin have learned, unfortunately, the hard way.
"I believe in big changes that change the world, but you do it in iterative fashion," D'Vorkin says. "We're not trying to boil the ocean in one day."
Citing a failed project while in the programing department at AOL, D'Vorkin is adamantly against the idea of the wholesale, all-at-once shift.
"One, when you spend six months or nine months or a year, and you turn on one light switch one day and you turn on a new light switch on another day, the world has changed over those months," he says. "Two, you build such a heavy product that will collapse under you because you actually don't know how it's going to work. You spent all this time and then you have to go back to zero."
Throughout its existence, Doubledown embodied its constituency. Admittedly, it was started "by traders, for traders." It was about all-or-nothing risk—occasionally even to the point of recklessness, according to some former employees.
Lane, along with ex-trader and co-founder Magnus Greaves characterized their tolerance for it as unlimited—"See it, Make it, Spend it." was the tagline of Trader Monthly. Even the name "Doubledown," the blackjack strategy of doubling your bet and hence both your gains and your losses, was built on a gambling metaphor.
Under Lane and D'Vorkin, Forbes hasn't been afraid to take risks—it's continued to innovate. It's just always mindful of doing so without compromising its 95-year-old brand.
Meet the Author
---