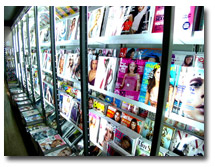 The U.S. consumer magazine segment continues to struggle with a weakening economy, declining circulation and a soft advertising market, but it's still relatively stronger than newspapers.
So says an extensive report published this week by Fitch Ratings, a ratings agency serving global credit markets.
The agency says it fielded a number of inquiries from investors following recent "corporate actions" including Ziff Davis Media's Chapter 11 filing, U.S. News & World Report's recent announcement that it would cease weekly publication, and announcements by Hearst and Condé Nast of the closures of Quick & Simple and Golf for Women, respectively.
The report also predicts fewer new magazines coming to market "as the economics of launching new product become unattractive," an assertion that seems to be supported by Samir Husni's mid-year analysis of magazine launches. "It is likely that the larger players will seek to rationalize available print advertising inventory," Fitch's report states. "This shake-out could be painful for certain titles and companies."
But if the consolidation "can be achieved without over leveraging their balance sheets," the remaining publishers that are left "could benefit from scale through portfolios of top brands in demographics that are attractive to advertisers."
The shift to digital media has had a "high-profile negative effect" on both consumer magazines and newspapers. But magazines face "two key disadvantages" when compared to newspapers, Fitch says: their advertisers are often represented by agencies which are, in short, more savvy than newspaper ad buyers. "[Magazine] advertisers are often represented by media planners and buyers who have access to sophisticated tools for evaluating the effectiveness of different media, compared with newspaper clients who are often local advertisers with few resources for evaluating the return on investment."
The relatively low barrier of entry for existing magazine publishers to develop "knock-offs" to their competitors is also a disadvantage.
Yet consumer magazines are not as exposed as newspapers to the digital shift because they are, in general, more targeted, have a lower price point and aren't as reliant on classified advertising.
Interestingly, the report argues that because of intense competition historically, the magazine industry and its management teams are better positioned to adapt to change: "More so than newspapers, magazines have had adapt to changing consumer tastes, which requires a different culture and attitude toward change (magazines get shut down, whereas newspapers rarely do). Over time, competition breeds more rigorous management infrastructure, discipline and the ability to make difficult decisions. Thus, Fitch believes magazine management teams and sales forces are better equipped to adapt."
Download the full report here.