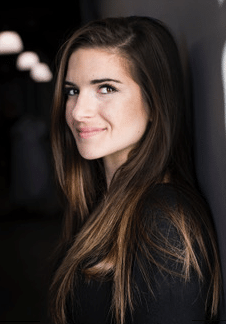 Most people may think that getting to work with a famous athlete or write about an important event as a sports reporter would be the ultimate win. Taylor Baucom, picture editor & multimedia producer at The Players' Tribune, agrees that opportunities like those are "indeed amazing." But, for her, more intimate subjects more often make for a really revealing and—in its own way—powerful piece.
For all the big stories the 28-year-old has worked on, from the World Series to All-Star games, the one that surprised her the most was about a junior high girls lacrosse team in Harlem.
"Through photography, audio and handwritten elements from the girls we were able to create a platform that told their individual stories in their own words," Baucom says. "It was the purest form of collaboration—with my colleagues and with the players—with everybody contributing something unique."
Perhaps more importantly, she notes that the brand showed that a story can make a difference even if it's not told by an MVP, or somebody with a multimillion-dollar contract.
There's video evidence that Baucom has been fascinated by sports photography for most of her life. Her parents have a home movie of her at a local high school basketball game when she was in the second grade. She'd been to cheerleading camp with a bunch of other girls from the area, and was supposed to cheer when the home team ran through a banner, but that's not what happened.
"Instead of cheering, I grabbed my purple Kodak 110 and started shooting pictures of the players while they warmed up," she says. "So I guess you could say that I've always wanted to be on the sidelines with a camera in my hands. Of course, today, it's without the cheerleading uniform."
Any photographer will probably tell you that there's nothing like the rush of shooting history while it's being made, but just as special to Baucom is the creative process. A ton of work goes into taking a picture, work that begins—long before a game or match is even played—and so much happens afterwards as well.
It's a collaborative process that involves not only editors and colleagues, but also the athletes themselves. "Authenticity is the core of every story on The Players' Tribune, and the visual elements that run with the articles play an important role in the storytelling," she says.
Through photography, Baucom enjoys that she's able to show athletes a side of themselves that their fans probably haven't seen before. "And also, hopefully, showing them different sides of themselves at the same time."
Right now, Baucom recognizes that one of the biggest opportunities in media is immersive storytelling—especially with advancing VR technology. But reminds us that the goal is the same: Tell a compelling story. And five years from now, Baucom hopes that she's still with The Players' Tribune and still finding new ways to help athletes tell those compelling stories.