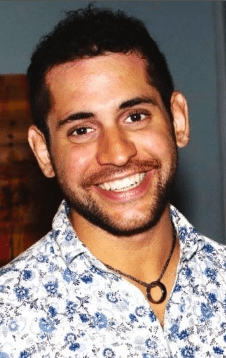 Shane Michael Singh tells stories. The 28-year-old senior editor of Playboy has been with the brand for six years and most notably wrote both the cover story and the lead feature in March 2016. That issue marked the debut of Playboy's non-nude redesign.
For the lead feature, "My Deportation," which Singh ghost-wrote and edited, he won a Folio: Eddie Award for Best Article in a Men's Lifestyle Magazine. "A huge honor," he says.
However, his passion for storytelling started much earlier. At 15, he was given a copy of Dave Eggers' A Heartbreaking Work of Staggering Genius for Christmas. It took him two years to finish it because the writing was beyond anything he was capable of comprehending at the time.
"But while my classmates read Harry Potter, I read Eggers, who himself had been a journalist," he says. "It was when I was lost somewhere in the middle of that book that I decided I wanted to be a writer. As luck would have it, journalists got paid to write."
More recently, as senior editor, Singh has been working on original online features that have helped draw new readers to Playboy.com. He spearheaded a story called "10 Feminists on Why They Work for Playboy" to combat the notion that Playboy is anti-feminist. "It was awesome to spotlight the important roles my female colleagues play in this company," he says.
Because Playboy has a point of view, people are more willing to discuss the stories Singh tells—especially as someone who covers contentious subjects like sex and politics. For example, what does it mean when Playboy covers asexuality? What does a Playboy interview with a trans rights activist look like? How can Playboy tackle LGBT issues in a way other outlets aren't?
"Challenging people's perceptions of what we do and the stories we tell will always be the most exciting part of my job," he says.
Outside Playboy, Singh is working on his first book—a memoir—about growing up gay and closeted in Illinois' backcountry with a father who was indoctrinated by a religious cult. "It's a doozy," he says. "But within Playboy, my goal is to dig deeper into being an authority on sex. We're entering a new sexual revolution wherein young people no longer care about strict norms when it comes to gender, sexuality and attraction."
As expectations shift and technology becomes more embedded in our interpersonal relationships, Singh tells us that he wants to keep pushing Playboy's coverage into the realm of uncomfortable but necessary.
Looking to the future, he has no plans of slowing down his storytelling; no matter the format, medium or location. Singh has several book and script ideas he wants to pursue, so within the next five years, "I hope to have at least one book under my belt."
Within the news industry, journalists have been warned of changes and smaller margins for more than a decade; and while the industry has weathered that, Singh says people seem to be hungry for quality storytelling now more than ever. He believes the success of Netflix, The New York Times and Snapchat proves that. This is what motivates Singh, and this is what's going to keep him telling stories, whether via apps, documentaries, films or on paper.
Know Someone Worthy of Joining These Ranks?
min's Rising Stars Awards is looking to single out the next generation of media superstars—the editors, writers, social media pros, bloggers, brand leaders, marketers, salespeople, and others who are laying the groundwork for the evolution and future success of magazine brands. Find out more—early bird deadline to enter the competition is on Friday, September 15.