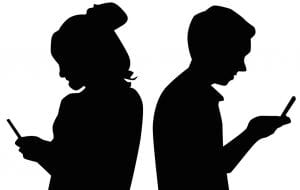 Solutions to the rampant proliferation of electronic devices in family homes have evolved considerably in the age of smartphones, from mandates of "no devices at the dinner table" to built-in features like iOS 12's Screen Time, which monitors activity and allows for the imposition of parental controls to limit usage.
But a new study suggests that, like many technological advancements (when used in moderation), a vast majority of American families have found that the increasing presence of digital devices has had a net-positive impact on home life and intra-family relationships.
The final installment in a three-part study conducted by Kantar Consulting and Trusted Media Brands, Inc., the publisher of Reader's Digest, Taste of Home and the Family Handyman, among others, surveyed 3,500 families (defined as two or more adults in a household with at least one family member/spouse) to better understand how technological and cultural shifts are impacting American home life.
Among the findings: 86 percent of respondents said they use technology "regularly" to communicate with other members of the home, while nearly two-thirds (64 percent) of respondents indicated that technology has afforded them more free time at home.
Further, only slim minorities suggested that technology has made their families less engaged while they are together (15 percent), or that it has negatively impacted their families' social skills (9 percent).
"The national dialogue about the effects of digital technology on family life has taken a decidedly negative turn," reads a report accompanying the study. "While it's true that many families are seeking sensible cutbacks to 'screen time,' our research suggests that what has been overlooked are the ways in which technology is also improving family life and connection."
While Trusted Media Brands has a clear vested interest in alleviating concerns about digital media consumption in the home (Taste of Home's 19.8 million unique monthly visitors, for example, outnumber even Reader's Digest's peak circulation figures of the 1970s and '80s), debates over the optimal limits on device usage aren't likely to end anytime soon.
A separate study published this week in the Journal of the American Medical Association draws a correlation between screen time and delays in cognitive development among toddlers. But another, published this month in Nature Human Behavior, argues that "the outsized weight given to digital screen-time in scientific and public discourse might not be merited on the basis of the available evidence," suggesting that the negative impact of technology use in adolescents pales in comparison to other factors, like bullying, substance abuse or poor eating habits.
"It's clear from our research that American families are embracing digital technology in their homes and everyday lives," said Trusted Media Brands' president and CEO, Bonnie Kintzer, in a statement. "As American families look to enhance and deepen the relationships that matter most in their lives, marketers should be looking for ways to use technology to bring families together and engage them with their brands."