The Rise of Renaissance

New Orleans Magazine rises from Katrina.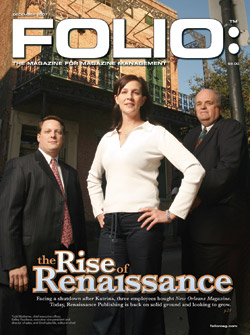 Just days after Hurricane Katrina hit, Kelley Faucheux stood on the balcony of New Orleans Magazine's 18th floor office. Faucheux, then senior vice president for the magazine, had obtained a pass to re-enter the city, and made her way through roadblocks and flooded neighborhoods to the wind-torn and water-logged office to retrieve paychecks and insurance policies. ("The security guard said, 'Here's a flashlight, if you're willing to climb up 18 flights of stairs, go ahead,'" recalls Faucheux.) The offices were near the infamous 17th Street Canal, which had given way during the storm. "We spent 45 minutes on the balcony, just watching," says Faucheux. "All we saw was water and the only sound we were heard were helicopters. It was the eeriest feeling I ever had in my life."
Before the Storm
At the time, New Orleans Magazine was part of MCMedia LLC, a multiplatform publisher owned by entrepreneur and CEO Bill Metcalf Jr. and president Alan Campell, a former investment banker. In August 2005, the company boasted nine magazines, two radio stations (including a Spanish-language format) and an emerging b-to-b business called Biz Network, which featured a glossy magazine (called Biz New Orleans), a radio station and a Web site that filled the void of its previous b-to-b title, City Business, which MCMedia had sold to Dolan Media. "Launching Biz Network had given us nice momentum and decent profitability," says Campell. "It took us a while to put the pieces together after we spun off the cash cow, which was City Business. The rest of the magazines were like icing on top but now they had to carry the load. In 2005, we were starting to make progress."
In fact, each magazine-which included New Orleans, Louisiana Life, New Orleans Homes & Lifestyles and St. Charles Avenue-was posting a record year. MCMedia had 85 employees, and projected revenue of $8.5 million. Then Katrina hit.
What happened next was the collapse of a thriving business. MCMedia for a time lost its ability to do even the smallest tasks, like make phone calls, send e-mails, look up contracts and generate revenue. It laid off most of its employees and ultimately, the owner threw in the towel, selling the assets to three employees. Here is the story of those three co-owners, their employees, and the rise of Renaissance Publishing.
"The End of Things As We Know It"
As with most of New Orleans, MCMedia took little notice of Katrina at first. On Thursday, August 25, 2005, the company even hosted a launch party for a new magazine called Sports Extra. "We got word that we needed to switch the radio stations to hurricane mode and I thought, 'No way, we've got the launch party and we're broadcasting the Saints game on Friday," says Todd Matherne, then chief operating officer. "For the last five years, a storm would come and you'd pack a bag to stay away for a couple days. That was normal. There was no sense of, 'Oh my God, the hurricane is coming, here are the 15 steps we need to take to safeguard the company.'"
By that weekend, however, the realization set in. The city finally declared evacuation on Sunday morning and Campell managed to get his mother on what turned out to be the last flight from the city. Power went out and phone service went down-Campell and Matherne weren't able to talk for 48
hours.
"It was like operating in a black hole," says Campell, who was in Vermont at the time. "I saw pictures of the office building on the news but I didn't know what the damage was. The initial reaction was relief, we all thought New Orleans had got by. Then we got the reports that the levees broke. The first thing through my mind was, 'This is the end of things as we know it. It's going to take a long, long time to recover from this.'"
Taking Stock
The first challenge was locating employees, who were scattered all over the country. One salesperson was trying to make her way back from a Hawaiian vacation to a house that was in 20 feet of water. Another employee was bused from the Superdome to Dallas, where he stayed with a Texas-based employee. Art director Eric Gernhauser paddled his boat through the city, rescuing stranded pets. Even after all employees were accounted for, it was hard to find people in a position to resume work. "For the next three months, there was always someone who had to do something with an insurance adjuster or contractor, you could never be at work full-time," says Faucheux.
In the second week after Katrina, MCMedia began trying to resume operations. Matherne garnered office space at Baton Rouge Printing in Port Allen, Louisiana. "[CEO] Kevin Bankston-who I will thank every day-said come on in," says Matherne, who along with CFO Scott Ferguson, made their way back to the old office to retrieve the e-mail server and production server (which had the upcoming issues of the magazines). "We were on the phone with Alan trying to figure out what to do," says Matherne. "How can we get the Biz e-mail up so we can start sending out notices? How can we get the radio stations up?"
The initial plan was to keep publishing New Orleans Magazine and Louisiana Life-all other publications were suspended while the company used the Biz Network e-mail to feed the community news. But the company had no revenue coming in and counting part-timers, there were more than 100 employees on the payroll. "After the first two weeks, we came up with an emergency plan and decided we could keep about 15 employees," says Matherne. "We tried to get salespeople from each title, so we had a base if and when we could relaunch the publications."
The company began reaching out to other publishers to try to find jobs for ex-employees. "That was hard, sitting in that room making phone calls to people I've worked with for five years and saying, 'We can't bring you back,'" says Faucheux.
The September issue of New Orleans Magazine had shipped just before the storm but most of the copies were destroyed (the company would receive a note from one subscriber who took heart from seeing their water-logged issue of New Orleans in the mailbox when they returned home). Digital magazine vendor Zinio provided the company with a free digital version of the September New Orleans. The company was in no position to publish the October issue and focused on preparing November, as well as the autumn issue of Louisiana Life, including reconfirming clients. "There were no contracts anymore," says Matherne. "At the time of the storm, Louisiana Life had 100 to 120 contracts. You can't go back to them and say, 'You signed a contract, run an ad.' Many of them didn't have a business anymore." The arrival of Hurricane Rita a few weeks later made it even harder but Louisiana Life managed to reconfirm between 80 and 90 of its original contracts.
An Exercise in Triage
At that point, the company was sending out two news e-mails per day. With local advertisers devastated, the magazines had to look nationally. For the November issue of New Orleans, Campell suggested a cold call letter to members of the Fortune 500, not as a request for a handout, but as a show of support for the New Orleans community. The letter generated about 40 ads from companies such as Bank of America and Merrill Lynch at the full rate of $4,200, generating nearly $90,000. New Orleans' longtime printer, Publishers Press, bought an ad in support (but didn't run it so its other magazine clients wouldn't wonder why Publishers Press hadn't bought an ad from them too). MCMedia asked local advertisers to shift their dollars from the September issue of New Orleans to November.
Those employees that stayed on took pay cuts. "We had to act sooner than maybe some of the employees liked," says Matherne. "We came up with new pay scales-it was a pretty drastic pay cut but at least they had a job."
The company got a three-month moratorium from the bank and with a respectable issue of New Orleans lined up and no rent to pay, had a little breathing room to take stock. "We realized we couldn't bring the Biz Network back, b-to-b was out of question," says Matherne. "Our b-to-b products were set up more for image advertising than direct sales. It would be a long time before we could revive that and there was a fairly high overhead with the radio station, Web site and the magazine."
Radio operations were scaled back to mostly carrying CNN.
The next issue of New Orleans hit the street on November 15, followed by
Louisiana Life on December 15.
Sales meetings became a way of judging who was coming back in the market. "What used to be a 10-minute call on 'do you want to buy an ad or not,' turned into a two-hour conversation-'where are you, how are you,'" says Faucheux. "Our sales calls became a personal bond with everyone in the city. No matter who you were, you had something in common you never had before."
Faucheux, whose house was untouched, set up shop for the sales team in her living room. Shortly after Katrina, she fell and broke her tail bone. Then a planned surgery gave way to a series of mishaps that kept her in the hospital on and off for three months, and forced her to turn her hospital room into the sales headquarters. "As soon as I got out, I would go right back in," says Faucheux. "For months I couldn't get a break. We were filling out impositions and proofing the book right from the hospital room."
Exit Plan
The company had to sign a waiver to get into its original building and was officially allowed back on Nov. 1. Office décor included folding chairs and tables, with a mold shield that covered 70 percent of the office. If that wasn't enough, during MCMedia's first week back, a neon sign in the kitchen caught fire and the sprinkler system flooded the floor below.
After its initial success with the November issue of New Orleans, MCMedia faced a downward spiral with subsequent issues. Owner Bill Metcalf realized he either needed to make a major investment to keep the business going or take the opportunity to liquidate the company. MCMedia did have hard assets with the two radio towers and its radio license, and the Hispanic radio station was showing signs of picking up with so many Hispanic laborers coming into market. "We felt we could sell the radio stations and recoup the investment that way but to wait around for the city to come back to revive publishing under MCMedia ownership would be very difficult," says Campell. "People were taking big pay cuts but we didn't think they would continue to do it. Sooner or later there would have been a sense of, 'Hey, you guys are rich, you made all that money selling City Business, you can afford to pay our salaries.' That wasn't the reality, we really didn't have the money to invest in it."
However, selling to an outside party at that point would have been impossible. Prior to the storm, Metcalf had already discussed a buy-out with Matherne. Now it took on new emphasis. "The thinking was, 'The radio assets we can dispose of but the publishing assets will take a huge amount of investment,'" recalls Matherne. "'But if we let employees take it over at not a very large price in return for taking over the deferred subscription liability, maybe that will help us collect receivables.'" The company also expected insurance proceeds (and eventually collected 80 percent of its pre-Katrina receivables).
Then on January 16, 2006, Metcalf told Matherne he was going to shut the company down. "I said, 'Give me until this afternoon, and I'll come back with a term sheet," says Matherne, who grabbed Faucheux (on her way out the door to a sales call) and editor and associate publisher Errol Laborde, to discuss the opportunity. "I basically asked them, 'How much money do you have?'" says Matherne.
Metcalf wanted to transfer ownership by February 1. The purchase price included some cash but focused primarily on the new owners assuming the deferred subscription liability of almost $250,000. None of the receivables transferred so the new company had to start out with its own working capital. Alan Campell agreed to stay on as a partner with about 25 percent ownership. Matherne became the majority partner with 55 percent of the company, while Faucheux and Laborde each own 10 percent. "In the space of 48 hours I went from thinking I was going to be out of a job to being a part-owner," says Laborde.
The deal was completed in February and the first issue of New Orleans under the new company was March. At Laborde's suggestion, the new
company-Renaissance Publishing-took its name from the cover line of its first issue after the storm, "And Now The Renaissance." The new owners now had the responsibility for paying salaries in February while knowing they wouldn't see revenue from the March issue until April or May. "The first quarter is always seasonally slow and we modeled out on a worst-case basis," says Matherne, who over a 15-day span took care of the behind-the-scenes details of creating a company.
"If you asked me on February 1 what the company was valued at, I would have said not a damn thing," says Matherne. "Did we have some trade names and some subcriber base? Yes. But we had no contracts. Everything was month to month. I knew whoever got there first after Katrina would last. Five years from now, no one will care who was out first. But right then and there, you had to be the person out there with something."
Taking Over
Shortly after the deal closed, the team found a new office building with 2,000 square feet and an option for another 1,000 square feet. Under the new structure, Laborde runs editorial, Faucheux runs sales, and Matherne handles the business side.
Early returns were lean. The company relaunched St. Charles Avenue, which focuses on non-profit events in New Orleans, but the first issue took in less than $20,000 in advertising revenue.
Still, the new owners saw this as an opportunity to address some old corporate-culture issues, which included a top-heavy management structure with nine individual managers for nine magazines, a set up that fostered competition instead of cooperation between the teams. "If you were on the phone with a client and hung up, somebody two cubes down was calling that same person, saying, 'Hey, I just heard you bought an ad, want to buy one in mine?'" says Faucheux. "We needed to centralize the sales component where everyone helped each other. Now, sales executives say, 'Sure, I'll introduce you to so-and-so.'"
The team also had to win back advertiser relationships-a difficult task since many of the previous reps were no longer with the company. "There was a lot of earning trust back, a lot of convincing people to spend their money with us because we weren't going to fold tomorrow," says Faucheux. "It was a lot of old school, good-old-boy handshakes. 'Come on, go out on a limb with me.'"
The company also centralized editorial under Laborde, (dubbed "Mr. New Orleans" by Matherne), who also hosts a local radio show and television show. "Previously we could have had the same type of story come out in two magazines in the same month and not know it," says Matherne, who recounts how Biz New Orleans published a story on New Orleans as a destination for out-of-town brides right before New Orleans' popular wedding issue.
With mail delivery still hampered, Laborde started doing an online column that reached 11,000 people. "At first I was reluctant, then I was stunned by the response," he says. "Sometimes I would get responses before I even know the column was out." The online column also became a vehicle for breaking news. A developer contacted Laborde in response to an article he did on renovation ideas for the historic Roosevelt/Fairmont hotel that led to eight different scoops. "Sources were finding us instead of the other way around," adds Laborde.
By March, Renaissance started doing its own weekly newsletter for New Orleans Magazine, which it still does today. "One of things we lost in the deal was the immediacy of the media," says Matherne. The newsletter is a mix of news, business and lifestyle items, such as recipe of the week. The team sells ads in the newsletter for between $250 and $400. "It's not significant revenue but it is significant communication on a weekly basis," says Matherne. "With our magazines, our audience only sees us once a month."
Necessity Breeds Newsstand Invention
Renaissance faced massive difficulties with distribution and mail delivery post-Katrina, which required Matherne to attend weekly meetings with the Post Office. "When our sales staff had a client say, 'How do you know your subscribers are getting the magazine,' they could say, 'Because my CEO is at a Post Office meeting every Wednesday at 11:30,'" says Matherne. "'Here's his number.'"
Newsstand distribution was also in chaos. "The national newsstand distributors gave up on New Orleans," says Matherne. "We were coming up with our Top Doctors issue-always one of our best sellers-and we needed another way to get these issues out, so we started looking for alternative places that would sell our magazine."
That included coffee shops, pharmacies and grocery stores. "We went to places that don't typically sell magazines but were New Orleans-type places," says Matherne. "One place was a shipping store-everyone was sending FedEx, nobody was sending regular mail." Renaissance put up racks with 20 magazines in the stores for $3.95 a copy and split the sales 50/50 with the retailers. The company started with five different retail partners. When it reached 35, it hired a full-time newsstand coordinator. "Their distribution was in place on Day 1," says Carla Murphy Adams, director of marketing with The
Shops at Canal Street, an advertiser with New Orleans.
Today, New Orleans Magazine has 115 retail partners and sells a little over 4,000 issues per month. Alternative distribution accounts
for more than half of that.
Turning the Corner
While the magazines began showing some life, it was the company's custom business that gave Renaissance its first real boost. In 2006, The New Orleans Saints awarded Renaissance a $330,000 contract to do game programs. "At the Saints game we had purchased billboards that said 'Subscribe to New Orleans Magazine,' 'Subscribe to St. Charles Avenue,'" says Faucheux. "I was texting Todd during the game, saying, 'Can you believe this?' There was this sense of 'Okay, we got past this, we will get past whatever the next obstacle is that comes along.'"
"That was a huge ego boost," agrees Matherne. "It also meant we could start increasing employee salaries." The City & Regional Magazine Association bought a two-page spread in New Orleans to show its support. The owners divvied up that money and gave it to the employees in December 2006 as a Christmas bonus-the first in the company's history, even in the MCMedia days.
By the end of 2006, Renaissance had scratched its way to $2.1 million in revenue and was profitable. "We can't afford to lose money because we've already put all our money into this," says Matherne.
Renaissance wants to bring back as many of the original nine MCMedia titles as it can. Today it publishes New Orleans, St. Charles Avenue, New Orleans Homes & Lifestyles, New Orleans Bride Magazine and Louisiana Life. In spring 2008, Louisiana Life will publish a fifth issue called Louisiana Life's Guide to Traveling in Louisiana. The company continues to launch aggressively, including a new magazine called On Stage, which covers the performing arts.
For 2007, the company is projecting $3.7 million in revenue, with custom publishing accounting for about 20 percent. New Orleans Magazine is back to about 85 percent of its pre-Katrina advertising levels. Louisiana Life is back 75 percent, while New Orleans Homes & Lifestyles is up to 65 percent. St. Charles Avenue is back 90 percent.
"I've always liked the look of the magazines but they took on a different feel after the hurricane," says Richard Lee Mathis of Symmetry Jewelers and Designers, a longtime local advertiser. "I appreciate the stories that now talk more about what's going on in the city."
And despite the pressures of starting from scratch, Renaissance is holding the church-state line. "For a company that started off so weak we've been able to hold up our editorial integrity," adds Laborde.
"By all reports, they are surviving," says Jim Dowden, executive director of CRMA. "It's very challenging to even equate how they're doing today to pre-Katrina because all the ground rules have changed. I'm impressed they continue to function."
With 27 full-time employees, Renaissance has maxed out its current space. For now, the partners are not courting outside investment. "If we had more capital, could we do more and do it quicker?" says Matherne. "Sure. But I like not having a bank note. I like not having that venture capitalist wanting to know about his big return. I like the fact that we're growing from within, and we can say 'we need this type of employee now' and we can afford it. I'm not willing to give it up on that end yet."
Meet the Author
---