When I was in journalism school (which, frankly, wasn't that long ago), my professors decried what was thought to be a golden rule, one that I have broken several times already: Do not write in the first person. I, me and my are words that should not be used—if "dire" circumstances do present themselves, it is suggested that writers like this reporter find ways to get around it (hint).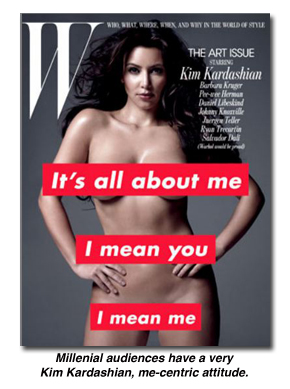 With the rise of millennial audiences, the proliferation of social media and the advent of "selfies," a general me-centric culture has come to the fore, and women's lifestyle media outlets are certainly taking notice.
This week I wrote about the new online-only property from Say Media and Jane Pratt—xoVain.com. When I interviewed Kate Lewis, Say Media's senior vice president and editorial director, she outlined Say Media's strategy for reaching their target millennial audience:
"It's the story of real women, living their lives and sharing their experimentation and rituals…Our whole reason for being is to create what we call point-of-view publishing, which is a unique, special and personal voice in the digital space. That is what appealed to us on this unique take on beauty—it's a number of women of all different ages and walks of life talking about what role beauty plays in their life everyday. It's that personal, intimate, experiential thing."
xoVain.com is really taking this "point-of-view publishing" model to extremes. On the site's homepage, a rotator prominently displays images of not models, but the editors (a lot of whom resemble models, which could be another post all together). The bylines are first names only, and many of the stories center on the journalists themselves.
One prime example is this post. xoVain's 20-something beauty editor, known only as Annie, writes that the staff suggested she go partying, which she did until almost dawn (see her actual text to her friend that was embedded into the article, time-stamped 4:44 AM), and then document her experience using a new beauty cream from the site's launch sponsor that is designed to refresh the face even after the longest night of partying, supposedly.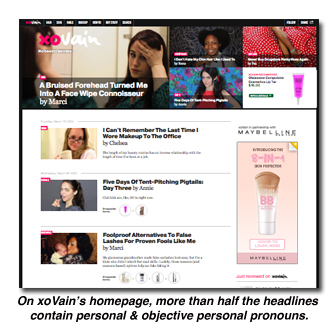 Annie took and embedded a few before photos at home, some during pics while she used the cream en-route to the office on the subway, and the final product as she strolled up to work. Annie is the subject of this story and the product review is just folded in.
The post has 157 comments, with one commenter saying: "I've been on the fence about buying this, and I now think I just might … It's hard to do things when you're hungover. It's hard to put makeup on in the subway. Mixing the two is a nearly impossible task…that I'm faced with…a lot. Thank you, Annie. Thank you."
xoVain isn't the only one, though. In August, Glamour magazine's editor-in-chief Cindi Leive chatted with me about the brand's redesign. Leive said the idea behind it came from a need to update the magazine to reflect the desires and personalities of contemporary women.
"We're living in a culture that gives way to the rise of the personal," she told me. "Our readers care about celebrities, but we also showcase clothes in the fashion pages featuring our own editors. I see our fashion assistants walking around the office looking amazing in an outfit they put together themselves at home. We started taking pictures and posting them to our website and we saw readers really responding to them, so we've done that in the magazine as well. What's aspirational to women now is much more individual, personal and idiosyncratic than it may have been ten years ago."
She added that a studio photo is "the way a still-life picture might have run in a magazine five years ago. It's all of the context and story surrounding [a] bag and the personal elements of it [that make it more successful]. It gets five times as many comments or re-pins or notes than the more antiseptic shot from a studio. We're living in a culture of personal storytelling."
Another Condé title, Self magazine, recently underwent its own redesign and adopted many of the same principals. Editor-in-chief Lucy Danziger told me the title "(R)eally needed to refocus the way we were talking to women." She added: "Now we have this new voice—it's much more conversational in tone."
xoVain.com, Self.com and Glamour.com are incredibly similar. To be honest, the sites look almost identical. Which, I guess, is not really a surprise considering that Lewis came to Say Media from Condé Nast in December 2012, where she was managing editor of (you guessed it) Self, and previously held an editorial management position at (surprise!) Glamour.
It seems that women's lifestyle journalism is being transformed by a single generation—after all, it does take three to make a trend. Maybe this is the new, new, new journalism Tom Wolfe could have never imagined?

T.J. Raphael is the associate editor of FOLIO:. Follow her on Twitter: @TJRaphael.