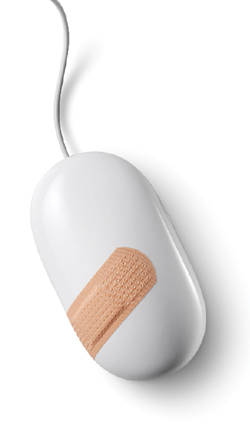 When a print magazine transitions to digital-only, the idea that it's a knee-jerk, last-ditch effort to keep a dying brand alive is not unique to media industry navel-gazers. A brand's audience can smell it a mile away, too. However, there are many times when this strategy makes sense, and even renews a formerly print-focused brand with a host of new opportunities—provided its owners can pull the trigger on some tough strategic decisions along the way.
At 1105 Media, the Education Group, which consists of two main brands T.H.E. Journal and Campus Technology, went all-digital in August 2012. Prior to that decision, the group was publishing the two print, monthly qualified-circulation magazines serving technology professionals in the K-12 and higher education markets. Both had long histories in print—T.H.E. Journal launched in 1972 by the father of its current publisher Wendy LaDuke and Campus Technology had been in print as a magazine for over twenty years, and a print newsletter before that.
But the decision to put that print legacy behind them was triggered by a confluence of what's become a common pairing of market forces: A decline in print advertising and a rise in advertiser demand for digitally-informed ROI metrics.
Data Accountability
"We made the decision to go digital in part because that's where our readership lives (they are technology advocates and decision-makers within their work spheres) and in part because print advertising—at least in our market—is clearly a dying animal," says Therese Mageau, the education group's editorial director. "Advertisers are looking at ROI and asking for evidence of effectiveness—you can't give them that with print. The truth is, we could do all the reader surveys we wanted, but we didn't really know [specifically] who was reading our magazines and if any of them were actually looking at the ads."
Nevertheless, when the group decided to, as Mageau put it, rip the band-aid off last summer, it immediately began recognizing benefits in production, audience make-up and engagement metrics. There were, however, challenges introduced that still heckle the ongoing strategy.
But even before that, market indicators were trending toward an advertising community that was looking for more ROI data on marketing spend—data that display advertising in print couldn't support.
"For a while now, from the advertisers point of view, it's become increasingly challenging for them to prove any kind of ROI on advertising," says LaDuke. "Since marketers are under so much pressure to show a good return on their marketing spending, it was becoming very problematic to provide that from a print perspective."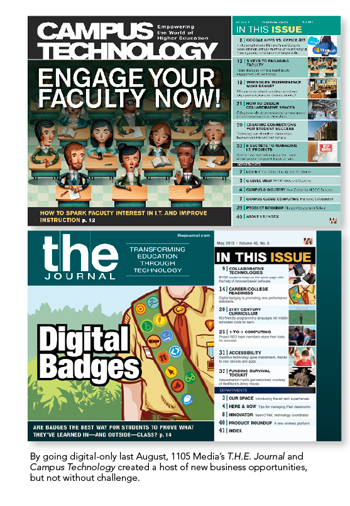 The Writing is on the Wall
At that point, the Education Group decided that rather than continue to try to protect print from what they viewed as a gradual but unavoidable long-term decline, they would go after what their market was telling them it wanted.
"We looked at things that we couldn't control and started to define the things that we could control—and that's what started the original thinking of going into the digital environment where we could track everything," says LaDuke.
But like any major strategic overhaul, making the jump to digital-only was a nerve-racking experience.
"It was really a question of if you build it will they come—on the readership side even more than on the advertising side," says LaDuke. "You just don't really know when you take a giant step like this what the reaction will be."
In the meantime, says Mageau, the various groups—editorial, production sales, etc.—from the very first meeting onward each took a piece of the new strategic plan and kept the focus on the transition.
"The very first meeting we had, everyone took a piece of the research—what we should be doing, writing and how it should be built," adds LaDuke. "We all came back and shared the info we found, and really tried to keep a mindset on what we needed to do."
Rich Media Only
By August 2012 the group was ready to commit. The idea from the start, which both Mageau and LaDuke are careful to emphasize, was to avoid at all costs a simple PDF flip book. The interactivity of the two digital editions was welcomed by the readership and provided richer engagement metrics to feed back to the advertisers.
"These are not PDF magazines, that is not what we did. They are fully interactive. Every single article has multimedia—and they also link out to every social platform," says LaDuke.
From a content production standpoint, not much changed aside from the welcome addition of a variety of new formats to help tell a story.
"Readers still want to learn about the same things," says Mageau. "The lead times haven't changed either. But what has changed is the incredible variety of ways we can tell the story now. We have access to all sorts of multimedia assets. We can do an animated architectural walk-through of a school. We can do video interviews, we do podcasts and slide shows. And we aren't limited to the one photo that fits."
Mageau adds that the editors, most of whom come from the print generation, welcomed the new content opportunities available to them.
New Advertising Opportunities
On the business side, that same expansion of content formats and multimedia was a bonus for advertisers, too. As most publishers that have built digital and tablet editions have learned, there's a host of rich media and lead-gen opportunities for creative. And the metrics and engagement data were exactly what the group was looking for to solve the ROI dilemma of print.
Plus, LaDuke says the ability attach a specific reader to specific metrics (the magazines are still qualified circ) paves the way for better informed lead-generation services supported with telemarketing campaigns that help determine where a subscriber may be in the purchase funnel.
A challenge, one that most publishers still face, has been educating agencies on the full capabilities of the digital magazines—most vendors, however, seem to get it from the start.
"The most challenging part for us, especially with the agencies, is you have print buyers an online buyers and they don't talk," says LaDuke. "And a digital edition is neither. That has been an educational process, but the vendors are pushing the agencies. We're making progress, once the advertisers see the value it's a no-brainer for them."
Cost Structure
Another challenge up front was the new cost structure and new budget determinations. Base ad rates went down, says LaDuke, primarily due to the fact there was no proven track record and no established formula for what the two brands were now delivering. Nevertheless, she says that they were able to add extra revenues through add-ons, lead-gen projects and creative services that enabled the brands to come out better than they had in print.
Budgeting proved to be more complicated, however. Fixed costs such as paper and postal went away, but they were replaced by costs that were not as familiar to the operation—multimedia assets, specific technology infrastructure—"everything you wouldn't think of until you started doing it," says LaDuke.
For now, the teams communicate closely to have a clear understanding of the costs associated with each issue, based primarily on what content technologies will be used.
SIDEBAR
How Digital Redefines and Audience
The switch to digital-only for 1105 Media's T.H.E. Journal and Campus Technology has also had a fairly profound impact on the brands' audience. The transition has allowed the Education Group to revitalize circulation thanks largely to the reader engagement data.
Freed from the rigors and costs of print subscriber requal marketing, the switch provided an opportunity to critically review the subscriber base, which over the years had been supplemented through list purchases, bringing in a portion of readership that the group had always suspected were not as fully engaged with the brands. That changed with the digital editions.
"In our old configuration, circulation was always a challenge—you're always fighting to requalify and generate new subscriptions," says LaDuke. "And a lot of publishers will supplement with lists or older names on files. What we now know based on the metrics is there's a very engaged part of our audience. And we also know that the old model with the supplements, those people are not engaged. But we were able to fine-tune our distribution to include our active readers."
As of the April issue T.H.E. Journal cut a significant portion of its circulation, but it's now 100 percent direct request. Campus Technology also cut its circ down and as of the May issue was 100 percent direct request as well.
However, LaDuke says that distribution can be dialed up to include a wider reader base for an extra fee to advertisers. "We don't refer to our readers as circulation, it's distribution. We have the core group of readers that we distribute to and if [an advertiser] wants to subsidize that to the greater masses we'll expand that distribution for and additional fee."