Rieva Lesonsky

Founder | GrowBiz Media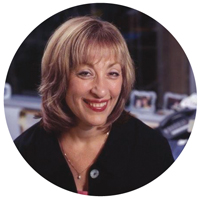 As the traditional print magazine business model transforms, more print editors are leaving their jobs—sometimes their own decision, sometimes not—and many are taking bold steps into the online world. One example is longtime Entrepreneur editorial director Rieva Lesonsky, who left last April to launch her own marketing communications company.
"Over the years I'd preached, in print and in public appearances, that business ownership was the only way you can really be in charge of your own destiny," Lesonsky says. "I decided it was time to put up or shut up."
After leaving Entrepreneur, Lesonsky launched SMB Connects, a network that put small businesses together with government agencies and organizations. "Our plan was to create a subscription offer that corporations would sign up for to reach fast-growing business owners," she says. She struck several content deals with publishers—including AllBusiness.com and American City Business Journal—and marketers such as Toshiba.
In September, Entrepreneur sued Lesonsky, alleging that she "stole" its Franchise 500 ranking concept by creating a Franchise 300 ranking for AllBusiness.com. After months of negotiations, Lesonsky and Entrepreneur settled, agreeing that SMB Connects and AllBusiness.com were prohibited from calling their list the "Franchise 300," or any other "confusingly similar" name.
Since then, Lesonsky has shifted focus from SBM's sub-based list service to a fee-based content provider. Under a new name—GrowBiz Media—Lesonsky and her team create and supply information for entrepreneurs and small- and mid-size business owners.
"Small business is, as Bill Clinton used to say, the engine of the American economy," says Lesonsky. "With millions out of work, it is likely that many will decide to start a business in 2009 and 2010. The need for GrowBiz Media's expertise and services is only going to grow."
VITAL STATS: Lesonsky projects $400,000 in revenue for her first full year of operation.
Meet the Author
---