Rick Schumacher

editor and publisher, LBM Journal ; president, Certified Green Dealer LLC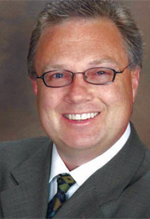 After starting his own publishing company with no money or office space, Schumacher's LBM Journal became the leader in its market seven years later.
In 2003, after the publishing company that Rick Schumacher worked for went bankrupt, he approached some fellow employees with a proposition. "Our magazine no longer existed and we were all out of work," he says. "However, we had a great team and I wasn't ready to walk away. I told them that I was going to launch a new magazine and would love to do it with the same team."
The new company, however, lacked money, investors, office space and guaranteed revenue. "With an opportunity like that, how could they resist!?" he jokes. But Schumacher persisted and started LBM Journal, which targets lumber/building material dealers, with his employees working from home. Current circ. is 36,499.
But Schumacher's entreprenuerial spirit didn't quit there. With two partners, he founded another company, Certified Green Dealer, which capitalizes on builders' desire to learn more about green building.
"The idea came to me in 2006 at a green building trade show," he says. "The majority of attendees said that their primary concern was where to buy green building materials. Although many products carried by lumberyards are very green, green building enthusiasts didn't see them as a viable source for these products. We then did research and found that most of our readers were not prepared to benefit from the fast-growing green building movement."
Certified Green Dealer's Web-based training program launched in 2008 and has trained more than 5,000 individual salespeople, certified nearly 400 lumberyard locations and remains the only program specifically designed for lumber/building material dealers. In its first two years, the program's Web site registered 1.6 million page views. "Though Certified Green Dealer is separate from LBM Journal, they both share the same goal: to provide companies with the tools they need to succeed."
VITAL STATS: Schumacher's LBM Journal has grown to become the leader its market, while Certified Green Dealer remains the only training program for green lumber/building enthusiasts.
BACK TO THE 2010 FOLIO: 40 MAIN PAGE 
Meet the Author
---