Richard Rosenblatt

Co-Founder | Demand Media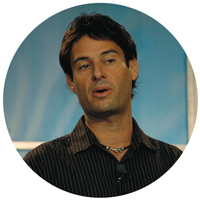 Demand Media is an online startup that traditional publishers should be paying attention to. Founded in 2006 by Richard Rosenblatt, former CEO of Intermix Media (the company behind MySpace) and private equity veteran Shawn Colo, Demand Media offers a network of more than 60 general and special interest sites such as eHow.com and Cracked.com which draw more than 60 million unique visitors per month by leveraging user-generated content including articles and video.
Demand Media generates more than $150 million per year, has raised $355 million in backing, is profitable and there was talk of prepping for an IPO in 2009 (the company was also rumored to be an acquisition target for Yahoo last summer).
While the company has successfully leveraged a user-generated content model, it's not necessarily a cheap one. Demand has a network of 10,000 freelance content creators who produce about 1,000 pieces of content (the majority text, with about 70 percent video).
The company has paid out more than $12 million to its producers. For text content, Demand Media pays on performance, rather than revenue share. For video the company pays upfront on a per unit basis (including more than $20,000 to one video producer for ExpertViIlage.com).
Demand is also the largest supplier of videos to YouTube, with more than 150,000 videos that have generated more than 44 million views. That's paying off with increasing ad revenue driven from Google AdSense, overlays and companion ads.
Demand is also looking to syndication beyond YouTube. Last March the company bought social media software company Pluck—which created the community platforms for big brands such as USAToday, NPR and McGraw-Hill.
The company also claims it has developed an algorhythm for predicting high value content (although they're not sharing).
VITAL STATS: Demand Media is the largest supplier of video to YouTube, with more than 150,000 videos.
Meet the Author
---