Richard Beckman Says He's Not Leaving Prometheus Global Media

Denies reports that his new role foreshadows a departure.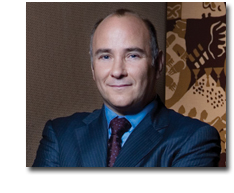 First it was rumors that investors in Prometheus Global Media were looking to unload the company, which publishes The Hollywood Reporter and AdWeek.
Now CEO Richard Beckman, who's giving up day-to-day oversight for a new "brand development" assignment that will take him out of the country for extended periods of time, is denying speculation in a New York Post story that he will be leaving the company (The Post broke the news of Beckman's new role). Beckman [pictured] tells the Daily Beast that he's not leaving and the change in responsibility is "not out of the ordinary for a small company."
Prometheus Global Media (previously called e5 Global Media), backed by Pluribus Capital Management and Guggenheim Partners, bought the Adweek Media Group titles, along with The Hollywood Reporter and four other brands from Nielsen Business Media in late 2009.
Beckman, who previously served as CEO of Conde Nast's Fairchild Group (where he picked up the nickname "Mad Dog'), has attempted to "consumerize" the trade titles, hiring former Us Weekly editor Janice Min as editorial director of The Hollywood Reporter and Newser founder and controversial Vanity Fair columnist Michael Wolff as editorial director of Adweek (in a letter introducing the revamped Adweek-which merged sister titles Mediaweek and Brandweek--Wolff said, "this is not your father's trade magazine")
"We're in a relatively enviable position because we have a successful
publication already," Wolff told FOLIO: at the time. "All we're doing is going to the
marketplace and saying, 'You were OK with a crappy product, now how can
you not be even more enthusiastic about an obviously better product?'" 
Meet the Author
---