The technologies and tools for building Web sites has changed so much in the last few years, what used to be seen as a huge time and financial investment can be done within days for a fraction of the old cost. With the latest Web-based solutions, that means any size publisher can offer the full rich-media experience without needing the expensive hardware or software. In fact, publishers shouldn't own hardware for their Web site at all, says Mark Pratt, vice president of business development for Metro Publisher, a CMS and Web development service provider. Publishers should be looking at software-as-a-service (Saas) or cloud-computing content management systems, he says.
Ten years ago, there wasn't really a concept of a real CMS or a development platform, like Drupal, Joomla or WordPress, for the Web specifically, says Tom Wolf, senior Web developer for Summit Media Group Inc. "That's been a shift of best practices and how we do it," Wolf says. Starting five or so years ago, the tools started to mature to a point where it made a lot of sense to use Drupal, or Ruby on Rails, or a whole host of those kinds of systems. Enterprise-level systems and commercial equivalents had been kicking around as well, though there wasn't a viable alternative to an enterprise system before then. "There would be a light-weight library, but not a full end-to-end workflow," says Wolfe. "What was developing and seen in the last few years was the proliferation and increased adoption of development tools on the back-end."
Falling Prices
It used to be that integrating a third-party service, such as YouTube and Twitter, which are so prevalent now, was seen as a major undertaking. And if there were more than a couple, it was a red flag with a large task requiring a lot of time. Now it's the norm to have half a dozen different services integrated into the site. "Now we run a variety of social media, pushing out and pulling some back in, leveraging third-party video providers," Wolf says. "There's a proliferation of these companies; what used to be really expensive is now available for a much cheaper fee. And a lot of the tasks have been solved at a platform level so the cost to integrate a new thing has lessened considerably."
Overall, costs for building a Web site have dropped through the floor. Maybe just four years ago, the costs to do rich media, like video hosting, would have required a thousand-dollar-a-month investment, Wolf says. Today, server, bandwidth, and coding costs have evaporated. Summit, which is in the midst of relaunching Automationworld.com and Packworld.com, the site for Packaging World, is using open-source Drupal. The publisher does analytics on site, making use of Viddler and a whole bunch of video-hosting companies for about $50 to $100 a month, Wolf says.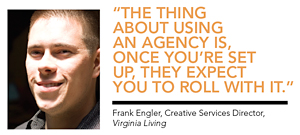 Editing and preparation has also become free or cheap in the consumer realm. YouTube does hosting and coding for free. For serious photo editing, you still need someone on staff with Photoshop, but that's a one-time cost every three years, he says. Audio can be done on the cheap using low-cost plug-ins for Skype or Google Talk. "The hardware and software are ridiculously cheap, and for quite good quality," says Wolf. "If multimedia is not your touchstone for your brand, people will engage with it even if it's not that high quality. You can do it with your iPhone so long as you provide the real-time experience. But when you're doing a podcast or something that's a stronger branding item or anything custom, if it feels like amateur hour every time, users will get frustrated with it."
Web builders like Squarespace, SiteKreator and Metro Publisher charge as little as a middling monthly Netflix account. For example, Squarespace charges between $12 and $36 per month, based on what features are needed. So some of its publishing clients spend anywhere from $100 a year to $1,000 a year for its hosted services, with no set-up fees. A publisher just goes to Squarespace's Web site, signs up for an account and their site will be instantly up and running. You log in, snap together the pages you want, manipulate the design and add content, says Anthony Casalena, founder of Squarespace.
For Metro Publisher, which developed the new Virginia Living site and continues to provide its CMS and serve as site host, clients who used to be billed $10,000 per month from a consulting company are now spending less than 1/10th of that, Pratt says.
Costs of Development Are Down, But Hours Remain the Same
While costs may have come down for most aspects of Web development, the amount of time it takes to develop and maintain sites has not really changed. But you get a lot more site for the money you spend, Wolf says. He breaks it down by man hours. "What we're looking at in terms of our new sites is 300 to 500 hours for plannings, meetings, design work, development work and testing. A lot goes into that," he says.
The new Summit sites will roll out around New Year's and have been in the planning stages for a few months. Summit is now in the 'development process proper' where they've already worked out what it is they want the site to do and are seeing what's available and building what's not available. Wolf did the same process at a previous job three years ago and it demanded a thousand hours of work for a comparably sized site, at double the expense.
"There's been an improvement with the tools and platforms, a lot of which are out of the box, but what's demanded of you is still a lot more," Wolf says. "But I'm spending less time developing comparably positioned sites." Summit recently created a companion Web site for an advertiser's show as part of an ad package. The publisher was able to roll out the site within three to four weeks.
Virginia Living started working with Metro Publisher in March of 2009 for a relaunch of its Web site, which went live in August 2009. The publisher was up against hiring and contracting an agency for a $90,000 Web site. But the thought that every time they'd need a fix they would have to get in touch with the agency for around $150/hour made them pull the plug. "The thing about using an agency is, once you're set up, they expect you to roll with it," says Frank Engler, creative services director for the regional magazine.
Metro Publisher worked with Virginia Living on the planning, Web site development and design—based on one of Metro Publisher's templates—and now hosts the site, including the necessary software updates and occasional fixes, all for "within a couple of hundred bucks a month," Engler says.
Now that the site is live, it serves as the publication's CMS. The publishing staff logs into their administrative portal, writes and uploads content, can see how it will look on page, and manipulates images all via browser. Metro Publisher handles the software and hardware and most back-end functionality. The navigation is all set up in admin. But the publisher keeps its 10×13 print magazine format, separately, sending images, Word docs and InDesign files to the printer.
Adding Web Components From Outside Sources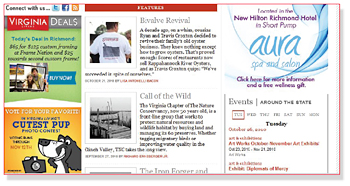 Virginia Living has managed to pull together a lot of components to the site on a shoestring budget with add-ons from outside vendors. For example, it runs online photo contests through Upickem, an online contest engine. The contest lives and is accessed through the Virginia Living site, but is hosted through Upickem servers.
A vendor similar to Groupon sends an e-mail to readers who've signed up for the service with a coupon a day. Virginia Living also has a portion of its site devoted to events around the state. Users can post details of their own events on the site's events calendar and the information will go live if approved by the publisher.
Human resources are still one of the most important factors to successful Web sites, no matter the size of the publisher. It takes a dedicated Web staff to develop and execute a new site, and it takes a dedicated staff to maintain the site and upload content, regardless of whether using a vendor or an in-house system.
"Make sure you have the workforce in place to handle rolling out the Web site," Engler says, "and for keeping it updated and fresh.