Magazines Pushing Rich Media in 2008

Publishers are gearing up for a big year for broadband e-initiatives.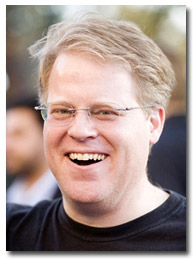 Publishers this year are making a push to dramatically increase their production of rich media assets. From education to entertainment, sites are all about "engagement" now, and rich media applications are helping to drive that metric.
Broadband use is widespread, and publishers are expanding what was once an opportunistic placeholder into a full-fledged rich media operation. Mansueto Venture's Fast Company, CNNMoney.com and Meredith are just a few examples of publishers that have dramatically stepped up their online video operations.
More Video, Much More
Last week, Fast Company announced its plans to upgrade its video offeringsto a full-scale network with the March launch of FastCompany.tv. Joining as managing director is Robert Scoble [above, right], an influential and prolific technology blogger and online video producer himself. After the addition of several more personalities alongside Scoble, Mansueto's video production will effectively jump from 4 to 86 technology-oriented segments per month across six shows in 2008.
Also last week, CNNMoney.com announced its own video network, featured prominently on its homepage. According to Chris Peacock, CNNMoney.com's vice president and executive editor, video production is increasing from an average of one or two segments per day to more than 30. "Broadband is fast enough and pervasive enough and people are adopting video much more than they did even a year ago," says Peacock.
A week after launching the new video platform, Peacock says the number of streams has increased two to three times its previous usage. As for FastCompany.tv, the audience that has already coalesced around Scoble's existing body of work as a blogger and online video producer could approach approximately 200,000 unique monthly visitors from his Scobleizer blog, which has joined the Mansueto Digital's network of sites, and about 125,000 feed subscribers from a previous video site.
Kieran Clarke, who was promoted last November to executive vice president and general manager of Meredith Corp.'s Video Solutions—the in-house video production group for the publisher of Better Homes & Gardens—generalizes a "healthy" budget for the division. Admittedly, this is for an operation that runs from two studios and produces broadcast-quality video, but the company's digital strategy mirrors the same growing commitment to a 'more is more' sentimentality. The seven-figure budget is capital set aside for the second year, which does not include fixed costs such as equipment and the build out of the studios. Clarke adds that revenues are also in the seven figures, but expects the operation to break even in its next fiscal year.
Like Fast Company's model, the bulk of Meredith's video content is through Better.tv and is also available on Better Homes & Gardens' site BHG.com. Sponsorship opportunities are varied, and Clarke notes that sponsors are becoming savvier about their branding choices with video. "I would say that 65 percent of the marketers and advertisers we deal with are [knowledgeable]," he says. "The other 35 percent is readily listening to what we're talking about. They're prepared and structured where they can at least listen to the idea and value transaction."
Meet the Author
---